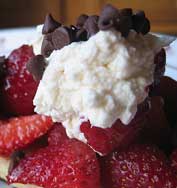 Everyone who tries this chocolate chip strawberry shortcake recipe will soon discover that it is tremendously difficult to find fault with it.  It is a perfect chameleon.  It satisfies a palate used to enjoying everyone's spring favorite, strawberry shortcake, while improving it with delightful nuggets of chocolate.  If you have a chocolate lover in your household, venture into new territory, and try this recipe today.  It takes no longer to prepare than a its chocolate-less cousin, but it is oh so yummy!
And, of course, don't forget that this is just one of many extraordinary recipes available for your enjoyment on StrawberryPlants.org. There are many other dessert recipes! If you are looking for other culinary uses for your extra strawberries, be sure to see the complete Strawberry Recipes section.
Chocolate Chip Strawberry Shortcake Recipe
Look, the sooner you start mixing and making, the sooner you can get down to the business of eating!  So, gather your utensils and tools, and get to work.  You will be enjoying a mind-numbingly delicious final result before you know it!
Chocolate Chip Strawberry Shortcake Ingredients
Ingredients List
2 quarts of fresh strawberries (strawberries can be substituted, conversions here. You can also freeze your own)
2 cups of flour
2 teaspoons of baking powder
4 tablespoons of cocoa powder
1/3 cup of sugar
1/2 teaspoon of salt
1/2 teaspoon of baking soda
5 tablespoons of butter
3/4 cup of milk
4 ounces of chocolate chips
2/3 cup of sugar
1 and 1/2 cups of whipping cream
Chocolate Chip Strawberry Shortcake Recipe Directions

Prepare the strawberries one to two hours before serving.  Clean the strawberries by thoroughly rinsing them under cool water.  After rinsing, drain the strawberries very well.  Remove the green caps with a strawberry huller or knife and slice the berries into halves.  Place them in a bowl and sprinkle them with sugar.  Cover the bowl and let them stand at room temperature for about an hour.
Preheat the oven to 425 degrees Fahrenheit with the rack set at center level.
Next, whip the whipping cream.  When it is whipped enough to hold a soft peak, cover it an refrigerate until it is ready to be served.
Combine the flour, salt, sugar, cocoa powder, chocolate chips, baking soda, and baking powder in a large bowl.  Mix the ingredients thoroughly.  Cut the butter into small pieces and work into the mix with your fingers.  Make a well in the center, pour the milk into the well, and then stir it in just until the dough is moist.  Let the dough stand for 1 to 2 minutes.  On a clean counter top, roll or flatten the dough out until it is in the shape of a circle and is an inch thick.  Use a two-inch cutter to make rounds until no dough is left (around 12).  Place the dough rounds onto parchment paper on a cookie sheet.  Put into the oven and bake for 10 to 15 minutes.  They are done when they have risen and are golden brown on top.  Test the centers with a toothpick; bake until the toothpick comes out clean.  If the tops are becoming too brown, lower the oven temperature to 350 degrees and allow to bake for 5 more minutes.
To make the strawberry sauce, pour strawberries into a blender, and add sugar while you blend.  Spoon out a tablespoon of sauce in the bottom of each serving dish, and put the bottom half of the shortcake on it.  Spoon two tablespoons of sauce, one tablespoon of whipped cream onto the bottom of the shortcake.  Then, put the top half of the shortcake on it before adding two more tablespoons of the strawberry sauce.  Top the shortcake with whipped cream, sprinkle a few chocolate chips on top, and garnish with whole strawberries.  Allow the shortcakes to cool, then enjoy!
Additional Notes on this Strawberry Recipe
This chocolate chip strawberry shortcake recipe makes a great "anytime" dessert, even though it is synonymous with flowers and springtime. And, remember, you never have to follow a recipe rote.  If you have an idea for an exciting modification, go with it!  Just like most of the other Strawberry Recipes, this one can be easily modified. For varied tastes, try adding blueberries, blackberries, or other exotic fruit. Experiment and find what works well for you and your unique taste sensibilities! For those conscious about the amount of refined table sugar they consume, feel free to try organic evaporated cane juice crystals, turbinado, sucanat, honey crystals, brown sugar, or even stevia to give unique and varied accents to this quick strawberry recipe.
Be sure to post a comment about your experience below, and others will benefit from your experiences!
Enjoy!