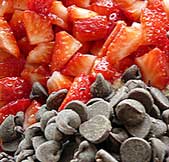 Hard working folks need a break every now and again.  Kicking back with a cool strawberry beverage during the first hot days of summer will do just fine for the break a hard charger like yourself needs.  But, if you want to do break time right, this chocolate strawberry fudge deluxe recipe is the way to go.  When you combine the delicious melt-in-your-mouth goodness of a fresh batch of strawberry fudge with a sweet jacket of the world's favorite sweet, chocolate, you get bite-sized morsels fit for the Ritz or any other 5-star locale.
Well, hey, with the amount of deluxe you'll experience after whipping up this fan favorite, you'll have enough to make even a back porch feel like a 5-star locale.  So, grab the tools of the trade, the ingredients, and get ready for a glamorous taste experience…no matter where you may find yourself!
And, of course, don't forget that this is just one of many extraordinary recipes available for your enjoyment on StrawberryPlants.org. There are many other dessert recipes! If you are looking for other culinary uses for your extra strawberries, be sure to see the complete Strawberry Recipes section.
Chocolate Strawberry Fudge Deluxe Recipe
You won't regret your decision to make this superb rendition of strawberry fudge.  It makes a splendid dessert or even a tasty snack.  Be sure to have some paper on hand if you serve it to guests, however.  Everyone who tries it will ask you for the recipe!
Chocolate Strawberry Fudge Deluxe Ingredients
2 ounces of strawberry syrup (make your own!)
2 cups of sugar
1/2 cup of butter
4 ounces of milk
4 ounces of semisweet chocolate
Chocolate Strawberry Fudge Deluxe Recipe Directions

Butter a 9 x 9 baking pan.
In a large saucepan, combine the strawberry syrup, butter, milk, and sugar, and place it over low heat.  Gently bring the mixture to a boil while stirring constantly.  Using a candy thermometer for accuracy, continue to boil the contents in the saucepan until the temperature reaches 235 degrees Fahrenheit.  When the temperature target is reached, remove the saucepan from the heat source and continue to stir until the bubbling stops.  Beat the mixture rapidly with a large spoon while the mixture cools and thickens.  Pour the cooled fudge into the prepared buttered baking pan.
Allow the strawberry fudge to cool completely.  Then cut into small squares or shapes of your choosing.  Place a toothpick through each cut piece.
Melt the semisweet chocolate.  Hold the toothpick and dip the strawberry fudge into the chocolate to give it an even coating.  Place each of the chocolate covered strawberry fudge morsels on a sheet of wax paper or cookie sheet and place them in the refrigerator to finish cooling and setting.  Remove when ready to serve!
Additional Notes on this Strawberry Recipe
This chocolate-covered strawberry fudge recipe makes a great addition to any feast.  Plus, just like most of the other Strawberry Recipes, this one can be easily modified. For varied tastes, try sprinkling peanut or almond pieces over the outside of the still-warm chocolate prior to cooling.  Or, for extra zip, try rolling the freshly-dipped chocolate in a dish of brown sugar. Experiment and find what works well for you and your unique taste sensibilities! For those conscious about the amount of refined table sugar they consume, feel free to try organic evaporated cane juice crystals, turbinado, sucanat, honey crystals, brown sugar, or even stevia to give unique and varied accents to this quick strawberry recipe.
Be sure to post a comment about your experience below, and others will benefit from your experiences!
Enjoy!