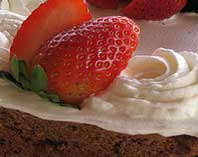 Somethings are meant to be together: Dr. Seuss and anapestic tetrameter, Mr. Rogers and his sweater, Barbie and Ken, Adam and Eve and fig leaves, and, of course, strawberries and chocolate.  You've landed in a great spot for one of these famous pairs.  You will have to find a Cat in a Hat elsewhere; and no neighborhood-building tools will be forthcoming (unless you make everyone on the block this fantastic mousse!); and Barbie and Ken are hopelessly narcissistic; and, unless you pair them with strawberries, figs can find their way into their own recipe somewhere else.  But chocolate?  Yes ma'am!  Chocolate and strawberries go better together than Egypt and pyramids, and may just bump apple pie out of the way when it comes to America as well!
Seriously though, all cliches aside, this dessert recipe will have you squealing with delight after the first nibble.  So, grab your gear, corral your ingredients, and get going!  The sooner you make this fantabulous chocolate strawberry mousse recipe, the sooner you will find that elusive taste nirvana.
And, of course, don't forget that this is just one of many extraordinary recipes available for your enjoyment on StrawberryPlants.org. There are even other crepes recipes! If you are looking for other culinary uses for your extra strawberries, be sure to see the complete Strawberry Recipes section.
Chocolate Strawberry Mousse Recipe
Most folks agree that the hardest part of making any recipe with chocolate in it is not eating it all before the finished product is complete.  So, why not set aside a few strawberries and some chocolate and nibble a bit here and there as you work.  It will be a true foretaste of things to come!
Chocolate Strawberry Mousse Ingredients
2 cups of strawberries (strawberries can be substituted, conversions here. You can also freeze your own)
2 cups of whipping cream
1 cup of semi-sweet chocolate chips
1/4 cup of sugar
3 tablespoons of orange juice
3 tablespoons of filtered water
1 cup of semi-sweet chocolate chips
1 teaspoon of vanilla
Chocolate Strawberry Mousse Recipe Directions

Wash and hull the strawberries.  Then, cut them in half.  Place the strawberries and orange juice in a bowl, then cover and refrigerate.
In a small saucepan, mix the water with half of the sugar and bring it to a boil.  Reduce the heat and simmer for one minute.  Blend the chocolate chips in a blender and add the hot sugar mixture, being careful not to burn yourself.  Blend until the chocolate is smooth and melted evenly.
Whip one cup of the whipping cream in a medium bowl, then use a spatula to fold the chocolate into the cream and blend it together thoroughly.  Cover the bowl and refrigerate for approximately 24 hours, or until firm.
When ready to serve, whip the rest of the whipping cream until soft peaks form, beat in the remaining sugar and the vanilla.
Layer the mousse, whipped cream, and strawberries.  Serve in dessert bowls or cups.
Additional Notes on this Strawberry Recipe
This chocolate strawberry mousse recipe makes a great "any season" dessert. It is always a palate cleanser of top notch caliber.  And, there is virtually no better pairing than chocolate and strawberry! Plus, just like most of the other Strawberry Recipes, this one can be easily modified. For varied tastes, try adding vanilla chips, butterscotch chips, cinnamon chips, or even caramel chips. Experiment and find what works well for you and your unique taste sensibilities!
For those conscious about the amount of refined table sugar they consume, feel free to try organic evaporated cane juice crystals, turbinado, sucanat, honey crystals, brown sugar, or even stevia to give unique and varied accents to this quick strawberry recipe.
Be sure to post a comment about your experience below, and others will benefit from your experiences!
Enjoy!