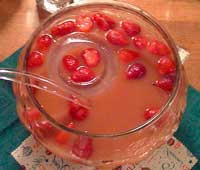 Everyone loves a good Christmas party.  The Secret Santa exchange or White Elephant gifts, the familiar music that brings back childhood memories of hearth and home, and the occasional scuffle between co-workers that will be remembered fondly and chuckled about for years.  What could be better!?  Well, all of the above with this great Christmas Party Strawberry Punch Recipe thrown into the mix, for starters.
There are numerous holiday punch recipes around to try, but give this one a whirl first.  It is a great recipe, simple to create and serve, and nearly universally enjoyed.  And, its aroma and visual aesthetic add appeal to any party during the Thanksgiving or Christmas holiday season.  So, if you are looking for a great addition to your event, be sure to incorporate this Christmas punch recipe into your plans.
An up-front warning: this strawberry punch recipe does contain alcohol.  It is no fun to end up inebriated, staggering about, and unfit to operate an automobile.  So, exercise prudence in the consumption of it, and remember that Grandma got run over by a reindeer.  Don't be like her.   If you've accidentally landed here looking for something else, feel free to find a different strawberry-containing recipe that will be more in line with your expectations. Even if you don't know quite what you are looking for, chances are that you will find something exciting to try if you look around here! Strawberry Plants .org has an entire library of wonderful Strawberry Recipes that are sure to please. Many are super quick, super simple, and all of them are super tasty!  You can find more drink recipes on the Strawberry Drinks page.
Why this Christmas Party Strawberry Punch Recipe?
Once you prepare and consume this recipe, you will know and understand why many people incorporate it into their holiday traditions. It is a fantastic recipe!  When it is swirling around in the punch bowl and all your family or guests are lining up for another cup, try not worry about whether there will be any left for you to have another!  Plus, it only takes about twenty minutes or so to prepare, so that will leave you plenty of time to shop for gifts or watch football or do other things to get you in the holiday spirit!  It does need to freeze after preparing, however, so be sure to allow at least eight hours of freezer time following. Here's how:
Christmas Punch Recipe: Ingredients for Punch
6 ounces of strawberry gelatin mix
2 1/2 cups of sugar
6 cups of water
1 can of pineapple juice (46 fl oz.)
1 quart of orange juice
2/3 cup of lemon juice
1 bottle of Sprite or other lemon-lime carbonated drink (2 liters)
8 cups of strawberry wine
1 teaspoon of vanilla extract
Christmas Party Strawberry Punch Recipe Directions
First, pour the water, sugar, and gelatin into a large saucepan.  Then, bring the mixture to a boil and boil for 3 minutes.  Next, stir in the orange juice, lemon juice, pineapple juice, and vanilla extract.  Freeze the resulting mixture.  For best results and ease of handling, line the inside of a pitcher with 1-gallon freezer bags, pour the mixture into the supported bags inside the pitcher, seal them, and then place the sealed bags in a 9×13 pan for freezing.
When it is party time, place the contents of one of the two freezer bags in the punch bowl or serving dish, pour in 1 liter of the lemon-lime beverage (half of it) and then pour in 4 cups of the strawberry wine.  Stir it until it is slushy.  Repeat with the remaining portion when needed.
Christmas Strawberry Punch Recipe: Concluding Notes
Just like most of the other Strawberry Recipes, this Christmas strawberry punch recipe is easily modified. If children are going to be at your party, be sure to replace the strawberry wine with plain strawberry juice, or you can simply double the amount of lemon-lime carbonated beverage you add.  And, for the true connoisseur, varied accents can be attained by the use of different sweeteners.  For those conscious about the amount of refined table sugar they consume, feel free to try organic evaporated cane juice crystals, turbinado, sucanat, honey crystals, brown sugar, or even stevia to give unique and varied accents to this quick strawberry recipe (if using pure stevia extract, however, be very cautious with the amount used as it is tremendously sweet and can give an aftertaste if too much is used).  Frozen strawberry puree can be added to thicken the final product, and whole strawberries can be used sparingly as a garnish.
Be creative, and enjoy!