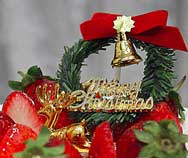 What goes better together than decking the halls with jingle bells?  Lots of things, my friend, lots of things.  Who wants to walk through a narrow corridor of tinkling terror just waiting to topple?  Not me.  Unless, that is, there is a large bowl of Christmas Strawberry Punch at the end of that hallway.  In that case, sign me up.  I'll risk it.  This Christmas strawberry punch recipe is perfect for any holiday festivity held in December. Whether you are having a happy Hanukkah, a merry Christmas, a cheerful Kwanzaa, or are looking forward to putting up the Festivus pole, this strawberry punch will enliven even the most spruced up holiday decor.  So, enjoy your holiday a little more this year; give the gift of this strawberry punch!
And, of course, don't forget that this is just one of many extraordinary recipes available for your enjoyment on StrawberryPlants.org. There are even other strawberry punch recipes! If you are looking for other culinary uses for your extra strawberries, be sure to see the complete Strawberry Recipes section.
Christmas Strawberry Punch Recipe
Although this recipe goes well with celebrations in warm homes during cold nights, don't limit it to just December celebrations.  It goes well with virtually any happy celebration.  So, after the holiday season comes and goes, file this recipe in the back of your mind and remember ye old punchbowl in the spring, summer, and fall as well!
Christmas Strawberry Punch Ingredients
1 cup of crushed fresh or frozen strawberries (strawberries can be substituted, conversions here. You can also freeze your own)
2 cups of strawberry wine
2 cups of orange juice
1 quart of seltzer
1 cup of sugar
1/2 cup of lemon juice
1/2 cup of water
Christmas Strawberry Punch Directions

First, mix the sugar with the water and boil the mixture until you have a syrup.  Allow the syrup to cool, then combine it with the crushed strawberries, orange and lemon juices, and strawberry wine.  Chill the mixture for 3o minutes or until cool.  When you are ready to serve it, pour the mixture into a punch bowl and slowly add the seltzer.  Then, ladle into serving glasses and enjoy!
This Christmas strawberry punch recipe makes 12 servings.
Additional Notes on this Christmas Strawberry Punch Recipe
This recipe is not kid-friendly without modification.  If you don't want your children (or your friends' children) losing what little inhibition and self-control they have during the holidays, and if you don't want the police taking your drunk kids away from you while you end up in court (or worse), you need to substitute something else for the strawberry wine.  Strawberry juice works just fine for the little ones.  Strawberry-flavored water or soda can be substituted as well. Plus, just like most of the other Strawberry Recipes, this one can be easily modified in other ways, too. For varied tastes, try adding crushed blueberries, blackberries, or other exotic fruit. Experiment and find what works well for you and your unique taste sensibilities! For those conscious about the amount of refined table sugar they consume, feel free to try organic evaporated cane juice crystals, turbinado, sucanat, honey crystals, brown sugar, or even stevia to give unique and varied accents to this quick strawberry recipe.
Be sure to post a comment about your experience below, and others will benefit from your experiences!
Enjoy!