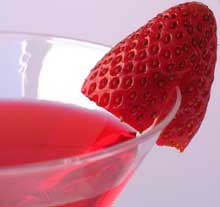 Not all strawberry martini recipes are created equal. There are many different versions of strawberry martinis to choose from and sample, with some being more complex to mix and some being quite simple.  To get the most-satisfying flavor out of any of them, however, it is important to not choose one so complex that frustration in preparation causes a negative predisposition prior to consumption.  That is why this easy strawberry martini recipe is a winner!  It doesn't get any easier than this.
If you arrived at this page looking for something other than a simple strawberry martini recipe, fret not.  The Strawberry Plants .org archive of recipes is very likely to have a recipe that is able to direct your preparation of a strawberry delight able to satiate your berry-flavored craving.  Simply meander over to the Strawberry Recipes directory and peruse until you find the perfect match for your palate.
Easy Strawberry Martini Recipe
This one is a truly easy strawberry martini recipe to make.  However, like all alcoholic drinks, it is very important for your safety and the safety of others to ensure that responsibility is exercised when consuming this or other alcoholic beverages.  Ensure there is a designated driver, if needed, and always be responsible!
Strawberry Martini Recipe: Ingredients
2 whole, fresh strawberries
1 teaspoon of strawberry syrup
2 oz of gin
1 teaspoon of dry vermouth
1 cocktail glass
Easy Strawberry Martini Recipe Directions:
Chill the cocktail glass prior to preparing the martini.  Once the cocktail glass is chilled, stir all the ingredients together and then strain them into the chilled glass.  Beginning at the tip, slice a strawberry 2/3 of the way to the tip and decorate the rim of the glass with the strawberry.  Put the second strawberry in the glass whole as decoration.
Strawberry Martini Recipe: Notes
This strawberry martini recipe makes a single serving.  To make more easy strawberry martinis, just double, triple, quadruple, etc., the recipe.  If you would like recipes for other alcoholic-containing strawberry drinks, see the Strawberry Drinks page.  For non-alcoholic delights, see the Strawberry Beverages page.  Any time alcohol is consumed, remember to drink responsibility.  For more unique martini recipes, see this book of 101 Martini Recipes.
Enjoy responsibly!