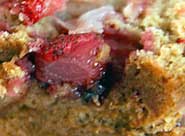 Road rage is running rampant.  Stressed out supervisors are screaming.  Middling micromanagers are meting out mindless missives mandating menial and mundane modes of operating that are threatening to make otherwise normal employees go maniacal.  My goodness!  It doesn't have to be this way.  What is needed is something to save time.  Something to soothe the irritated psyches that seem about to go volcanic.  Well, you can take a deep breath and smile, or weep with relief if that is your coping mechanism, because you now have the opportunity to fix a new favorite comfort food.  This easy strawberry quick bread recipe may not solve all the problems in the world, but you aren't likely to be pondering those problems while you savor this succulent stuff.
And, of course, don't forget that this is just one of many extraordinary recipes available for your relaxation and enjoyment on StrawberryPlants.org. There are even other strawberry bread recipes! If you are looking for other culinary uses for your extra strawberries, be sure to see the complete Strawberry Recipes section.
Easy Strawberry Quick Bread Recipe
Grab the ingredients and get ready to whip up this pleasure.  If you don't have time to make it, just move faster!  The sooner you get this culinary marvel made, the sooner all will be well in the world!
Easy Strawberry Quick Bread Ingredients
4 cups of strawberries (strawberries can be substituted, conversions here. You can also freeze your own)
6 eggs
1 cup of vegetable oil
1 cup of sugar
7 ounces of instant vanilla pudding mix
4 and 1/2 cups of flour
1 tablespoon of baking powder
1/2 tablespoon of baking soda
Easy Strawberry Quick Bread Recipe Directions

In a large mixing bowl, combine the oil, sugar, and instant vanilla pudding mix.  Mix together and add egg the eggs while still beating the mixture.  Mix until smooth.  Next, combine all the dry ingredients and add to the mixture in the mixing bowl while still blending at low speed.  Add the strawberries, then pour the batter into a greased loaf pan(s).
Bake at 350 degrees Fahrenheit for 50 minutes to one hour, or until a toothpick inserted into the center of the loaf comes out clean.
Additional Notes on this Strawberry Recipe
This easy strawberry quick bread recipe makes a great breakfast addition or can even be an enjoyable dessert. Plus, just like most of the other Strawberry Recipes, this one can be easily modified. For varied tastes, try adding blueberries, blackberries, or other exotic fruit. Experiment and find what works well for you and your unique taste sensibilities! For those conscious about the amount of refined table sugar they consume, feel free to try organic evaporated cane juice crystals, turbinado, sucanat, honey crystals, brown sugar, or even stevia to give unique and varied accents to this quick strawberry recipe.
Be sure to post a comment about your experience below, and others will benefit from your experiences!
Enjoy!