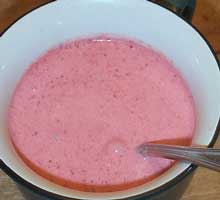 Strawberry Plants .org has a multitude of fantastic Strawberry Recipes that are available to you.  Sometimes, a recipe can go in multiple categories.  This is one such recipe.   If you are looking for an easy strawberry soup recipe that can be served as a side or a dessert, look no further!
This recipe can be heated as a winter treat, but it is best served as a summer dish.  Kids love it, and adults can't get enough of it either.  And, the best part is that it is a very easy strawberry soup recipe to whip up!
Easy Strawberry Soup Recipe
This is a wonderful summer strawberry soup recipe that is quick, easy, and a tasty delight.  Serve it to your neighbors on a humid summer evening, and you will likely have friends for life.  When you try it out, be sure to leave a comment below about your experience!
Easy Strawberry Soup Recipe: Ingredients
1.5 pounds of strawberries (conversions here)
1/4 cup of vanilla yogurt
1 pint of cream
1/2 teaspoon of vanilla
Easy Strawberry Soup Directions
Remove the green hulls from the strawberries (if you are using fresh instead of frozen berries).  Put the strawberries in a blender and blend until smooth.  Add the vanilla yogurt slowly and continue to blend.  Then pour the strawberry mixture into a large mixing bowl.  Add the cream and vanilla.  Stir until all ingredients are well blended.  Put in resultant mixture into the refrigerator and allow it to chill for at least one hour.  Garnish with a fresh strawberry or a few mint leaves prior to serving in soup bowls or mugs.
Easy Strawberry Soup Recipe: Notes
This easy strawberry soup recipe can be whipped up in a matter of minutes.  For a busy mom or dad-in-a-hurry, this treat can easily be worked into the schedule.  The whole family is sure to like.  In fact, it may be love at first bite.  This easy strawberry soup recipe serves three people, so it may need to be doubled for large families or if served for guests.  Like most strawberry dishes, this strawberry soup should be used within 2-3 days of preparation.  It can last longer if frozen and thawed when needed.
Be sure to post a comment about your experience below, and others will benefit from your experiences!
Enjoy!