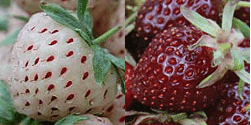 It is never too early for a true Green Thumb to start thinking about the Spring and the garden that will come forth when the temperatures reverse their cooling trend and start warming again.  Why not do something exotic in your garden this next growing season?  Of course, our humble opinion is that strawberry plants should be planted in every garden.  Who doesn't like a fresh strawberry first thing in the Spring?  But, for those who are looking for something to show off to the neighbors, there are two special strawberry plants worthy of extra consideration.
How about showing off purple strawberries or white pineapple-ish strawberries?!  Well, you can have either one (or both) if you plan early.  The two newest trends in the strawberry garden are Burpee's Purple Wonder variety and the resurgent Pineberry.  Neither are genetically modified, and both will turn heads.  Plus, they each are a delight to the taste buds as well!
The demand for these exotic strawberries are high, and there are relatively few suppliers at present.  So, be sure to reserve yours early to ensure you get them.  For pineberry plants, UK gardeners can get them here: Pineberry.  The full list of suppliers for the United States and elsewhere can be perused on the main Pineberry Pineberries page.
For the Purple Wonder strawberries, they are patented and are only available from Burpee.
Exotic Garden: Purple or Pineberry