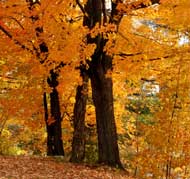 People often inquire as to the best time for planting strawberry plants.  Most folks are ready for cooler weather and changing leaves in the fall, and most aren't thinking at all about the shriveled remnants of brittle stalks still remaining in what used to be their productive gardens.  The gardening bug won't bite again until after snow and freezing temperatures have disabused the green thumb of the joys of winter.
So, for those wondering when is the best time to plant strawberries, the answer is simple: September.  By planting in September, you will allow the root systems of your plugs or bare-root plants to establish themselves well before the first fruiting season (in the spring).  Doing this allows you to skip snipping the flowers off of first-year, spring-planted strawberry plants and watch instead as the flowers turn to berries early in the growing season.
Fortunately, there are quite a few suppliers of strawberry plants who offer fall shipping.  So, don't delay.  Order today.  As you might expect, StrawberryPlants.org has a directory of them.  To order strawberry plants for fall planting and 1st-spring harvest, simply see this page (for more details, too): Fall Strawberry Plants.