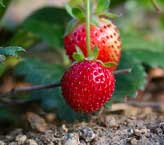 This is a question submitted to Strawberry Plants .org by a reader. The information provided in response to the question may benefit others with the same or similar inquiries. Therefore, it has been added to the archive page of submitted questions. See the Strawberry FAQ for more questions, or use the search box at the top right of this page to search this site for information.
Q: Fall Runners, Spring Strawberries?
On October 9, 2010, Rena asked:
Could you please tell me, if I plant a runner in the fall, will it produce berries the following spring?
Answer to: Fall Runners, Spring Strawberries?
Rena,
Yes, most runner plants that are planted in the fall (if overwintered properly), will produce a healthy harvest of strawberries the following spring. Planting your strawberry plants in the fall is generally the best approach for a first-time planting as well. If you already have established strawberry plants and just want to move the daughter plants, see the Transplanting Strawberries page for some tips. If you are planning a first-time fall planting, you can order plants from these suppliers of Fall Strawberry Plants. Hope that helps!
[ fall runners spring strawberries ]
Strawberry Plants .org exists to help spread the passion for growing and eating strawberries. However, manpower is limited. If you have a question related to strawberries, feel free to submit it or post it as a comment. Please be patient, though, as it may take some time before your question is addressed.