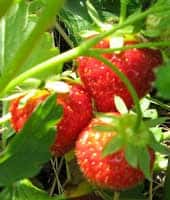 Strawberry plants are usually considered for new spring gardens in the middle of winter.  Cabin fever has set in, and the barren brown or snowy white landscape evokes fond thoughts of green buds springing up from the ground.  That is when most would-be gardeners start perusing the seed catalogs or surfing the internet wistfully in hopes of concocting the perfect productive plot come warmer weather.
Unfortunately, while strawberries are a universal favorite, the dead of winter is the wrong time to begin considering their cultivation if a first-year crop is what is coveted.  Instead, the previous fall is the time the planning and planting should be done.  And, that time is upon us!
For those green thumbs out there who want to see berry-laden strawberry plants this coming springtime, be preparing your strawberry garden now.  The suppliers of either bare-root strawberry plants or strawberry plugs (or actual potted plants in the case of Burpee) will be queuing up orders for either the end of September, October, or the beginning of November.
To reap a full harvest in a scant few months from now, prepare your ground and order your plants soon.  The list of locations from where you can order your plants is here: Fall Strawberry Plants.  And, if you come late and need help keeping the plants viable, be sure to review how to overwinter strawberries.  Good luck!