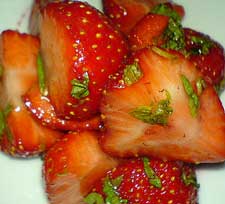 Have you ever sat looking at a pile of fresh, unused strawberries just looking for an easy way to spice them up a bit without a lot of effort?  If you have, keep this idea in mind: fresh marinated strawberries!  Taking your just-picked strawberries to the next level can be done more simply than you might think.  This fresh marinated strawberries recipe is simple, quick, and sure to please.
And, if you don't mind doing a little extra preparation work,  Strawberry Plants .org has an extensive library of wonderful Strawberry Recipes that are sure to please even the most discerning critic.  Browse around until you find the exact recipe that will help you use your extra strawberries in a blissful concoction.  Even if you don't know quite what you are looking for, chances are that you will find something exciting to try!
Now for the fresh marinated strawberries recipe…
Fresh Marinated Strawberries Recipe
Easy.  Quick.  Everyone is happy.  This recipe will be a hit with everyone.  Of course, be sure to substitute regular orange juice for the orange liqueur if youngsters will be munching these strawberries with the adults.
Fresh Marinated Strawberries: Ingredients
2 cups of fresh strawberries (conversions here)
3 tablespoons of lemon juice
3 tablespoons of sugar
2 tablespoons of orange liqueur
Fresh Marinated Strawberries Recipe Directions
Wash and remove the green caps from the fresh strawberries.  Then quarter the berries and sprinkle the sugar onto them.  Let sit for 3 minutes.  Sprinkle the lemon juice and orange liqueur onto the strawberries.  Allow the strawberries to sit for an additional 30 minutes in the marinade or until they are room temperature.  Then eat them up!
Fresh Marinated Strawberries: Notes
For an extra zip, fresh spearmint can be added.  Finely chopped fresh spearmint should be sparsely sprinkled after the addition of the orange liqueur and lemon juice, if desired.  And, like most of the other Strawberry Recipes, this fresh marinated strawberry recipe is easily tweaked.  Other fruit juices can be used instead of lemon juice or along with lemon juice, for example.  For those conscious about the amount of refined table sugar they consume, feel free to try organic evaporated cane juice crystals, turbinado, sucanat, honey crystals, brown sugar, or even stevia to give unique and varied accents to this quick strawberry recipe (if using pure stevia extract, however, be very cautious with the amount used as it is tremendously sweet and can give an aftertaste if too much is used).
Be sure to post a comment about your experience below, and others will benefit from your experiences!
Enjoy!