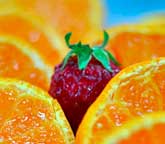 Let's be honest.  You don't have enough time.  When it comes to recipes, you want to get in, get the job done, get out, and enjoy what you made.  When it comes to time, this recipe is a big-time saver.  If you want deliciousness in a cup, you want to make this frothy strawberry orange drink.  In fact, it is so delicious, you might even be tempted to replace your daily coffee with this treat.  If it weren't for the caffeine craving, that is…
And, of course, don't forget that this is just one of many extraordinary recipes available for your enjoyment on StrawberryPlants.org. There are even other fabulous strawberry shake and strawberry smoothie recipes! If you are looking for other culinary uses for your extra strawberries, be sure to see the complete Strawberry Recipes section.
Frothy Strawberry Orange Drink Recipe
Get ready!  Get set!  GOOOO!  By the time you are done with this super fast recipe, you will have lapped the competition.  All the king's horses and all the king's men won't even think to challenge you again.  Begin now your reign as Kitchen Ruler with this simple-yet-regal recipe!
Frothy Strawberry Orange Drink Ingredients
1 cup of frozen strawberries (strawberries can be substituted, conversions here. You can also freeze your own)
2 cups of orange juice
1 and 1/2 cups of apricot nectar
Additional sugar
Frothy Strawberry Orange Drink Recipe Directions

It doesn't get much easier than this: dump the strawberries, apricot nectar, and orange juice into a blender and blend everything together for about twenty seconds, or until the mixture is smooth and very frothy.  Add additional sugar until you achieve the desired level of sweetness.  Serve right away!
This recipe makes 6 servings.
Additional Notes on this Strawberry Recipe
This frothy strawberry orange drink is so quick and easy that it is a great option for afternoon summer enjoyment on the porch.  Or, serve it up to sweaty kids as they take a break from destroying the imaginary bad guys that are invading the yard.  It can even double as a sweet breakfast treat or dessert.  And, just like most of the other Strawberry Recipes, this one can be easily modified. For varied tastes, try adding blueberries, blackberries, or other exotic fruit. Experiment and find what works well for you and your unique taste sensibilities! For those conscious about the amount of refined table sugar they consume, feel free to try organic evaporated cane juice crystals, turbinado, sucanat, honey crystals, brown sugar, or even stevia to give unique and varied accents to this quick strawberry recipe.
Be sure to post a comment about your experience below, and others will benefit from your experiences!
Enjoy!