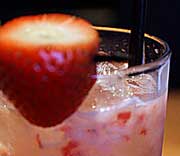 What is the most underrated fizzy beverage?  Is it soda water?  Please; who likes that stuff…it is low-rated for good reason.  Coca-Cola?  Come on, that's a billion-dollar business.  Now that your curiosity is piqued, I'll share the secret with you.  The most underrated fizzy beverage is the one virtually everyone likes but isn't available at McDonald's, Pizza Hut, Burger King, Taco Bell, or any of the other mega-establishment cohabitants in the Food Empire.  The answer is, of course, ginger ale!  So, say "voila" and get your bottle ready.  This recipe will deliver the premiere blonde drink: ginger ale strawberry blonde!
And, of course, don't forget that this is just one of many extraordinary recipes available for your enjoyment on StrawberryPlants.org. There are even other drink recipes! If you are looking for other culinary uses for your extra strawberries, be sure to see the complete Strawberry Recipes section.
Ginger Ale Strawberry Blonde Recipe
As with any alcohol-containing beverage, this strawberry blonde drink recipe has the potential to cloud judgment, erase inhibitions, and basically get you in all sorts of trouble. So, before you begin sipping, use your mental faculties to facilitate a fun experience for yourself and everyone else. Always drink responsibly. And, if you will be using self-operated motorized vehicles for transport, ensure you've procured a kind soul to serve as the designated driver.
Ginger Ale Strawberry Blonde Ingredients
2 whole strawberries (strawberries can be substituted, conversions here. You can also freeze your own)
2 ounces of strawberry liqueur
Ginger ale (to fill your selected glasses)
Crushed or cubed ice
2 teaspoons of sugar (optional)
Triple Sec Strawberry Margarita Recipe Directions

Wash the strawberries.
Select two glasses; cocktail glasses are normally selected, but you can use any.  Chill them in the refrigerator for best effect.  Place ice cubes or crushed ice into the glasses.  Pour the strawberry liqueur over the ice, and add ginger ale until the glasses are full.  If desired, sprinkle sugar around the rim of the glasses either before or after adding the other ingredients.  Slice a washed strawberry halfway through, starting at the tip end.  Slide the strawberry over the edge of the glass for garnishment.
This recipe makes 2 servings.
Additional Notes on this Strawberry Recipe
Like all of the other Strawberry Recipes, this one can be easily modified. But, it really needs no modification! For those conscious about the amount of refined table sugar they consume, feel free to try organic evaporated cane juice crystals, turbinado, sucanat, honey crystals, brown sugar, or even stevia to give unique and varied accents to this quick strawberry recipe.
Be sure to post a comment about your experience below, and others will benefit from your experiences!
Enjoy!