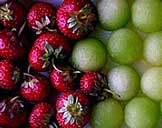 Ginger ale is a poorly appreciated bubbly beverage.  Coke and Pepsi and all the other soda spinoff drinks can claim their rightful spots sidled up next to pizzas and hamburgers.  But, ginger ale is its own master of all things subtle.  You'll rarely find Coca-cola in holiday punches.  You aren't likely to pair Pepsi with fruit of any kind.  Oh, but ginger ale?  Absolutely!  Ginger ale is for the discriminating palate.  This ginger ale strawberry fruit cocktail is an especially easy and delicious wonder of the kitchen.
It is super simple to make, awesomely delicious, and makes perfect use of ginger ale!  So, take a break or plan a party so you have an excuse to double the recipe, then get busy making this masterwork!
And, of course, don't forget that this is just one of many extraordinary recipes available for your enjoyment on StrawberryPlants.org. There are even other dessert and salad recipes! If you are looking for other culinary uses for your extra strawberries, be sure to see the complete Strawberry Recipes section.
Ginger Ale Strawberry Fruit Cocktail Recipe
So, you've grabbed your Canada Dry? Fantastic! Just follow this set of super simple instructions, and you will be munching masterfully mixed fruit forthwith!
Ginger Ale Strawberry Fruit Cocktail Ingredients
1 and 1/2 cups of strawberries (strawberries can be substituted, conversions here. You can also freeze your own)
1 fully ripe banana
1 16 oz can of fruit cocktail
1 cup of melon balls
1 12 oz can or bottle of ginger ale
Lemon juice
Ginger Ale Strawberry Fruit Cocktail Recipe Directions

First, wash and hull the strawberries.  Then, cut them into halves.  Peel the banana.  Slice on bias (at a 45 degree angle), and dip the slices into lemon juice, then add them to the strawberry halves.  Make the melon balls, then add them to the strawberry and banana pieces in the bowl.  Open and drain the juice from the can of fruit cocktail, then add the drained fruit from the can with the rest in the bowl.  Cover the bowl and place in the refrigerator to chill.  Just before serving, pour the ginger ale over the fruit and then ladle into chilled bowls or sorbet dishes.
This recipe makes 6 delicious servings!
Additional Notes on this Strawberry Recipe
This gingerale strawberry fruit cocktail makes a great side dish or dessert.  The ginger ale provides just the right amount of zip and "oomph" to sate the sweet tooth.  If your sweet tooth is larger than most, you can enjoy this easy recipe for breakfast.  Plus, just like most of the other Strawberry Recipes, this one can be easily modified. For varied tastes, try adding blueberries, blackberries, or other exotic fruit. Experiment and find what works well for you and your unique taste sensibilities! For those conscious about the amount of refined table sugar they consume, feel free to try organic evaporated cane juice crystals, turbinado, sucanat, honey crystals, brown sugar, or even stevia to give unique and varied accents to this quick strawberry recipe.
Be sure to post a comment about your experience below, and others will benefit from your experiences!
Enjoy!