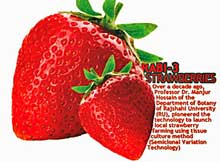 Strawberries are a small fruit native to the Americas and also found in several other regions of the world.  Bangladesh is not one of them.  However, the Fragaria x ananassa hybrid cross that makes up most of the strawberry cultivation around the world is not breaking through in Khagrachhari just yet.  Two pioneering farmers, Bimal Chandra Chakma and Munmun Chakma, have successfully grown strawberries there for years now.  They used a species called Rabi-3, and have watched as their efforts have quadrupled the size of their plantation.
The pair of farmers initially started with 50 decimals of land, but were able to expand their growing strawberries in Bangladesh to 200 decimals in just three years.  What is also ground-breaking is that the couple has paved the way for other farmers to begin growing strawberries in Bangladesh since their operation has proven to be commercially viable.
Growing Strawberries in Bangladesh
The farmers growing strawberries in Bangladesh can contribute at least a portion of their success to Professor Manjur Hossain, a Professor in the Department of Botany at Rajshahi University, who facilitated local strawberry farming via tissue culture of the varieties: RU-1, RU-2, and RU-3.
As strawberry plants are predominantly grown in the United States in California, Florida, and North Carolina, shipping to under-served regions can be both cost prohibitive and impossible as strawberries tend to have a short shelf life.  So, with each new technological development that allows more individuals in more countries to share in the delight and reward of growing strawberries locally, the passion for the small red fruits will, no doubt, spread to all corners of the globe.  And, that is a good thing!
For more details and the rest of the story about growing strawberries in Bangladesh, the full article can be accessed here.