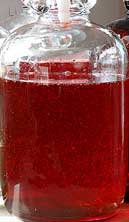 Most kids have fond memories of upending a syrup bottle and squeezing an inordinate amount of thick, sugary deliciousness into a glass of pure white milk.  As any kid knows, when the milk is either about to overflow or equal to the accumulated syrup in the bottom of the glass, it is then time to stir.  Whether stirred vigorously or slowly, watching the white milk turn red or brown with strawberry syrup or chocolate syrup is like a dinging bell for old Pavlov's canine companion.  Every kid knows that it is time to enjoy a treat when the color is uniform.
While stirring syrup into a glass of milk may be the only thing young children are capable of concocting in the kitchen until they are a bit older, you are likely a master of such culinary arts by this time.  And, even if you aren't, you can still undertake this simple homemade strawberry syrup recipe.  Whether waffles, ice cream, or just a glass of milk are begging for a little strawberry love, this fantastic recipe will be just what puts the perfect touch of finality to whatever it is you are making!
And, of course, don't forget that this is just one of many extraordinary recipes available for your enjoyment on StrawberryPlants.org. There are many other strawberry recipes for your enjoyment! If you are looking for other culinary uses for your extra strawberries, be sure to see the complete Strawberry Recipes section.
Homemade Strawberry Syrup Recipe
While you could choose to eat this syrup plain, it goes best with other delightful edibles.  Drizzle it here and there for accents or flavor enhancement.  It goes excellently with virtually any dish or recipe that calls for both fruit of any kind and whipped cream!
This is an especially helpful recipe to make if you have an abundance of extra strawberries during harvest, or if you find a few still-good strawberries marked down at the grocery store as they near the end of their shelf life.
Homemade Strawberry Syrup Ingredients
5 cups of strawberries (strawberries can be substituted, conversions here. You can also freeze your own)
1 and 1/2 cups of water
1 cup of sugar
2 tablespoons of lemon juice
Homemade Strawberry Syrup Recipe Directions

First, wash and hull the strawberries, then slice them into halves.
Put all the ingredients into a medium saucepan or pot with a lid and bring to a boil with the lid on.  Once the mixture is bubbling, allow it to continue to boil for ten minutes (the lid remains on).  After the ten minutes have completed, strain the strawberries through a fine mesh sieve.  Be sure to press the strawberries to remove as much liquid as possible.
Return the liquid to the saucepan/pot and cook for an additional 5 to 10 minutes or until the liquid takes on a syrupy consistency.  Remove from heat and allow the syrup to cool.  Once the mixture is no longer hot, pour it into clean jars or bottles (whatever glass container you wish to store it in or from which you will serve it).  As the syrup cools, it will thicken further.  For thickest consistency, refrigerate.
This recipe makes approximately two cups of syrup.  Double or triple it for more.  If consistently refrigerated when not in use, the syrup will remain good for several weeks.
Additional Notes on this Strawberry Recipe
The possibilities for this recipe are practically endless.  As your friends marvel at this made from scratch strawberry syrup, you can be adding it to milkshakes or smoothies to serve up in minutes.  It also goes well with pancakes and can be added to carbonated water or soda to make your own sparkling strawberry beverage.  The options are as limitless as the recipe is awesome!  Plus, just like most of the other Strawberry Recipes, this one can be easily modified. For varied tastes, try adding a few blueberries, blackberries, or other exotic fruit.  Orange zest can be added for a little extra zing.  For more robust flavor profiles, try adding some cinnamon or black pepper, vanilla, or even some balsamic vinegar.  Experiment and find what works well for you and your unique taste sensibilities! For those conscious about the amount of refined table sugar they consume, feel free to try organic evaporated cane juice crystals, turbinado, sucanat, honey crystals, brown sugar, or even stevia to give unique and varied accents to this quick strawberry recipe.
Be sure to post a comment about your experience below, and others will benefit from your experiences!
Enjoy!