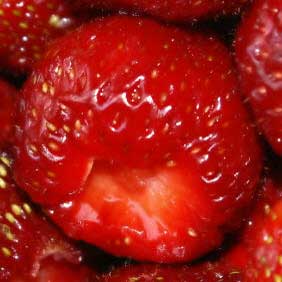 If you haven't decided to traipse on down to your local nursery and purchase strawberry plants to plant in your garden, now is a great time to give it some more thought!  Strawberries are packed with vitamins and beneficial nutrients your body needs (most notably Vitamin C and flavonoids).  Eating them may even help stave off some the negative effects of aging!
Of course, eating strawberries won't keep you alive until you are 200 years old, but they may just keep you young-at-heart.  A recent national survey conducted by the USDA (in conjunction with other researchers and funded by the California Strawberry Commission) polled 1,751 kids between the ages of 5 and 18 about their fruit preferences.  The results magnified a trend and cemented the little red fruit from the strawberry plant as the king of the fruit mountain.Strawberries handily outranked bananas, apples, cherries, and "other" fruit, nearly doubling the popularity of the second-place finisher (bananas).  Since it only takes about 8 strawberries to provide approximately 140% of the RDA of Vitamin C for children, this is a welcome finding.  With obesity and other serious health risks affecting more and more children, let's encourage the kiddos to put down the Twinkies and Hostess cakes and pick up a bowl of healthy, fresh strawberries.  In fact, most might just be thrilled at the switch, if the recent polling results are indicative of broader trends.
Speaking of trends, a 3-city in-depth survey was also recently conducted in participants' homes.  The results were encouraging.  The results of these one-on-one interviews showed increasing popularity of strawberries as indicated by consumption.  In fact, the average increase in consumption per year was over 4% for the 3-year period.
Now, that is a positive trend!
Why not participate yourself?  If you need help finding and planting and successfully growing strawberry plants, we are here to help.  If you don't want to grow your own strawberries but would like to support those who do, find a local farmer's market.  Strawberries are usually one of the first crops to come in each year and now is a perfect time to get them fresh, locally-grown strawberries to delight the palate.
So, why not join the other 94% of total households that consume strawberries and hop on the strawberry bandwagon?!  The average consumption of strawberries, per capita, is between 4.85 and 5.3 pounds per year (in all forms).  With a cup of strawberries only contributing about 55 calories, let's all hop on the strawberry bandwagon and target an average per capita consumption of 6 pounds!
Survey results here.