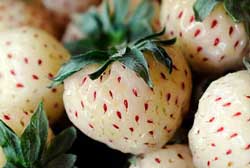 This is a question submitted to Strawberry Plants .org by a reader. The information provided in response to the question may benefit others with the same or similar inquiries. Therefore, it has been added to the archive page of submitted questions. See the Strawberry FAQ for more questions, or use the search box at the top right of this page to search this site for information.
Q: How Big Are Pineberry Plants?
On April 20, 2013, Ann asked:
Pineberry question:
Good morning!  First, I love your site and really appreciate your sharing your knowledge!  Second, I have a question.  Last year, I bought one pineberry plant from a very reputable source.  I planted it and it developed several leaves, but they were miniature and never grew any bigger than the size of my thumbnail. Then it disappeared and I thought it was dead.  This spring, it came up again, again in miniature.  My other strawberry plants are already full size.  All are in the same raised bed, so their growing conditions are the same.  Is this typical for a pineberry, or do I have a weird plant?
Answer to: How Big Are Pineberry Plants?
Ann,
While either of the things you mentioned is possible, my guess is that what you are seeing is just the typical growth for the pineberry.  As I mention on the pineberry page, pineberries haven't been widely commercialized precisely because they produce fewer and smaller strawberries.  While their growth and production will usually be smaller than your typical healthy June-bearing strawberry plant, they are also less-developed than most of the other varieties that are available for purchase these days.  Because they are a newer, less developed cultivar, they aren't as hardy and robust as the typical red berry producers.  It is also possible that your pineberry plant just doesn't like its environment.  It may not prefer its soil, while the other plants may be adapted to it.  It may be affected by mites or other "problems," while the other plants are either tolerant or resistant.  Or, it may be too crowded, not getting enough water, etc.  What you might want to do, if the pineberry plant produces runners this year, is to allow one or more of the runners to root into a pot.  Once the roots are established, snip the runners and then re-plant the new plant somewhere else to see if the changed conditions improve your results.  Good luck!
[ how big are pineberry plants ]
Strawberry Plants .org exists to help spread the passion for growing and eating strawberries. However, manpower is limited. If you have a question related to strawberries, feel free to submit it or post it as a comment. Please be patient, though, as it may take some time before your question is addressed.