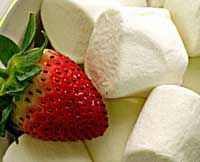 Everybody loves Kung Fu fighting.  Or at least Carl Douglas would have everyone think that.  Whether or not your kicks are fast as lightning, however, will likely depend if you have enough energy.  If you are looking for something to fuel your inner fire so you can trick black-clad karate bad guys with the ol' crane kick, or if you are just looking for something absolutely delicious to choke your taste buds into submission, this marshmallow strawberry tart recipe will help you find your focus.  After one bite, however, you'll likely not be able to focus on anything else.  Yes, it is that good.  In fact, if you want to wear your kitchen black belt with pride and take down all challengers, make this recipe soon.  You'll be glad you did.  And, all your little Ralph Macchio wannabe, samurai sword-wielding kids will thank you.  Heck, even Mr. Miyagi would be pleased with this one.  And, no, you won't have to spend years in the kitchen earning this one; it is rather easy to make!
And, of course, don't forget that this is just one of many extraordinary recipes available for your enjoyment on StrawberryPlants.org. There are even other magnificent strawberry tart recipes! If you are looking for other culinary uses for your extra strawberries, be sure to see the complete Strawberry Recipes section.
Marshmallow Strawberry Tart Recipe
Flying roundhouse kicks aside, this recipe packs a serious punch.  The fantasmic blend of light marshmallow goodness and the succinct and flavorful jabs of strawberry aroma are a taste knockout.  So, grab your ingredients, choke slam them onto the counter (gently), and beat this recipe until it cries uncle!
Marshmallow Strawberry Tart Ingredients
2 cups of strawberries (strawberries can be substituted, conversions here. You can also freeze your own)
2 cups of marshmallows
2.5 cups of rice cereal
1 package of instant vanilla pudding
1.5 cups of milk
2 tablespoons of butter
1 cup of whipping cream
1 tablespoon of maple syrup or flavoring
1 tablespoon of sugar
Marshmallow Strawberry Tart Recipe Directions

Wash and hull the strawberries.  Pat them dry and then set them aside.
Preheat your oven to 350 degrees Fahrenheit.
On low heat, melt the butter in a large saucepan.  Add the marshmallows and stir until they are all melted.  Remove the saucepan from your heat source and stir in the rice cereal until it is well-mixed.  Pat the mixture into a greased 9-inch pie pan.  Place the pan into the oven and bake for 10-12 minutes or until golden.  Remove and allow to cool for a few minutes when done.
In a mixing bowl, blend the whipped cream, maple syrup or flavoring, milk, and instant pudding on high speed until stiff peaks form.  Spoon the mixture into the pie pan on top of the crust.
Place the washed strawberries into the cream filling, sprinkle the sugar over the strawberries and top of the filling, and serve to all your little ninjas!  This recipe makes 8 delicious servings!
Additional Notes on this Strawberry Recipe
This marshmallow strawberry tart recipe makes a great dessert all year round.  While typically better with fresh strawberries, those can be more difficult to find at different times of the year.  So, if you have a particularly important martial arts competition during the colder months, you can always use frozen strawberries.  Just save some of your bounty from summer and substitute!  This recipe also serves as an excellent breakfast addition. Plus, just like most of the other Strawberry Recipes, this one can be easily modified. For varied tastes, try adding blueberries, blackberries, or other exotic fruit. Experiment and find what works well for you and your unique taste sensibilities! For those conscious about the amount of refined table sugar they consume, feel free to try organic evaporated cane juice crystals, turbinado, sucanat, honey crystals, brown sugar, or even stevia to give unique and varied accents to this quick strawberry recipe.
Be sure to post a comment about your experience below, and others will benefit from your experiences!
Enjoy!