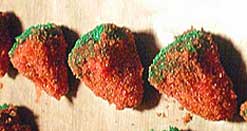 Let's face it: very few people like to slave away in the kitchen for hours on end baking and making and generally slaving to create pleasures that disappear into a gulping maw as a mess of swallowed mouth mush.  However, there is great deal of pleasure to be had in the gulping of said mouthfuls of tasty mush.  Everyone likes cookies.  Everyone likes candy too.  Everyone likes strawberries!  So, why not roll all three of those things into a recipe that takes virtually no slaving away in the kitchen?
Voila!  Here is your answer!  This no bake strawberry cookies recipe is perfect for any individual who doesn't want to spend time waiting on ovens to preheat or looking for rarely used kitchen implements.  All this beaut of a recipe takes is a set of hands, a bowl, and a few minutes.  So, if you are looking for a great uncooked strawberry cookies recipe, this one is your huckleberry!
And, of course, don't forget that this is just one of many extraordinary recipes available for your enjoyment on StrawberryPlants.org. There are many other dessert recipes! If you are looking for other culinary uses for your extra strawberries, be sure to see the complete Strawberry Recipes section.
No Bake Strawberry Cookies Recipe
This recipe is great for the kitchen inhabitant that wishes to find themselves living elsewhere pronto.  If you aren't in too much of a hurry, however, you can also take the time to use some green food coloring and slivered almonds to make some "strawberry stems and leaves" to fill out the strawberry theme.  Simply shape the cookies into strawberry-shaped ones, and put the green almonds at the top for decoration as stems and leaves!
No Bake Strawberry Cookies Ingredients
1 cup of strawberries (strawberries can be substituted, conversions here. You can also freeze your own)
2 packages of strawberry jello
1 cup of chopped pecans
1 cup of fine coconut
3/4 cup of condensed milk
1/2 teaspoon of vanilla
No Bake Strawberry Cookies Recipe Directions

Wash and hull the strawberries, then cut into small cubes.  The cubed strawberries can either be mixed with the other ingredients in the following step, or can be used to decorate the exterior of the strawberries after the last step.
Mix all the ingredients except the decorating sugar together.  Allow to sit for a few minutes, then shape into strawberries, or whatever other shape you please.  Roll the sides of your strawberry cookies in the red sugar, leaving the top portion free of red sugar.  Upend the cookies and press the tops into the green sugar.
If desired, put the green-dyed almonds on the top as leaves, or gently press the cubed strawberries into the surface of your berries.
Serve and enjoy!
Additional Notes on this Strawberry Recipe
This no bake strawberry cookies recipe makes a great dessert or special snack treat.  It tastes great regardless of the color of sugar as well, so you can use red, white, and blue colors and shape into American flags for the 4th of July, or make Christmas wreath-shaped uncooked strawberry cookies during the holiday season.  Plus, just like most of the other Strawberry Recipes, this one can be easily modified. Experiment and find what works well for you and your unique taste sensibilities! For those conscious about the amount of refined table sugar they consume, feel free to try organic evaporated cane juice crystals, turbinado, sucanat, honey crystals, brown sugar, or even stevia to give unique and varied accents to this quick strawberry recipe.
Be sure to post a comment about your experience below, and others will benefit from your experiences!
Enjoy!