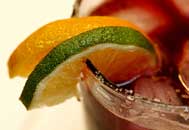 Hear, hear!  You no longer have to hop on a plane and fly to the Caribbean to experience a great margarita.  This orange liqueur strawberry margarita recipe will take you there just by closing your eyes and taking a sip.  It is a fantastic blend of flavors that is sure to convince your taste buds that they are reclining lazily by the crystal clear blue seas of your dreams as you swing gently in a soft hammock with the breeze.  So, whether you are looking for a sure winner that your friends will rave about, or a perfect complement to a sophisticated pool party in your backyard, give this delightful concoction a try.  You will surely not be disappointed.
And, of course, don't forget that this is just one of many extraordinary recipes available for your enjoyment on StrawberryPlants.org. There are even other drink recipes! If you are looking for other culinary uses for your extra strawberries, be sure to see the complete Strawberry Recipes section.
Orange Liqueur Strawberry Margarita Recipe
Making this cocktail is child's play!  But, drinking isn't.  As with any alcohol-containing beverage, keep this one away from inappropriate consumers.  Kids and cocktails don't mix.  And, always consume such beverages responsibly for your health and the health of others.
Orange Liqueur Strawberry Margarita Ingredients
1 cup of strawberries (strawberries can be substituted, conversions here. You can also freeze your own)
2 whole strawberries (or a slice of lime and orange)
2 ounces of lime juice
2 ounces of tequila
1 tablespoon of orange liqueur
1 teaspoon of sugar
1 cup of ice
Orange Liqueur Strawberry Margarita Recipe Directions

Once you have collected the requisite ingredients, simply pour them all into a blender, and blend on high speed for thirty seconds.  After evenly blended, pour the ingredients into a margarita glass and garnish with either the two whole strawberries (washed, of course), or the lime and orange slices.  Sprinkle sugar around the rim of the glass, feel free to add a few ice cubes, and then serve while it is still cold.
Enjoy!
Additional Notes on this Strawberry Recipe
This is a sure winner, as you will soon experience. And, like most of the other Strawberry Recipes, this one can be easily modified. For varied tastes, try adding blueberries, blackberries, or other exotic fruit. Experiment and find what works well for you and your unique taste sensibilities! For those conscious about the amount of refined table sugar they consume, feel free to try organic evaporated cane juice crystals, turbinado, sucanat, honey crystals, brown sugar, or even stevia to give unique and varied accents to this quick strawberry recipe.
Be sure to post a comment about your experience below, and others will benefit from your experiences!
Enjoy!