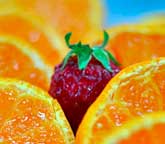 You've heard it said that variety is the spice of life.  Well, there is some truth in that.  A much less known colloquialism says that spices make variety in the kitchen.  Fortunately for you, if you are looking to spice up your life with a little variety, or if you are looking to add to your salacious culinary repertoire in the kitchen, this orange ragout strawberry crepes recipe will do the trick.  Spiced strawberry dishes are often difficult to find because it is often hard to pair up the singular strawberry flavor and aroma with any other competing combination.  However, this recipe not only achieves that delightful unity of taste and smell, but it will do so repeatedly, on each occasion you prepare it (because you will make it more than once!).
And, of course, don't forget that this is just one of many extraordinary recipes available for your enjoyment on StrawberryPlants.org. There are even other crepes recipes! If you are looking for other culinary uses for your extra strawberries, be sure to see the complete Strawberry Recipes section.
Orange Ragout Strawberry Crepes Recipe
So, you've decided to make this little wonder of the kitchen?  Fantastic!  Just follow this yellow brick road of instructions.  You won't find a fraudulent all-powerful wizard behind a curtain, but you will find a wizardly taste unlike any others!  So, get your ingredients, click your heels together, and start preparing!
Orange Ragout Strawberry Crepes Ingredients
Filling Ingredients
2 cups of strawberries (strawberries can be substituted, conversions here. You can also freeze your own)
1 cup of sliced oranges
1 cup of orange juice
1/2 cup of butter
1 tablespoon of powdered sugar
1/2 of a vanilla bean
3 small pieces of ginger
3 small pieces of cinnamon
1 small piece of orange zest
Dough Ingredients
1 cup of flour
2 cups of milk
3 eggs
1/3 cup of butter
1/2 teaspoon of salt
Orange Ragout Strawberry Crepes Recipe Directions

First, melt 1/3 cup of butter; then, blend the melted butter, flour, eggs, and salt in a blender until the mixture is smooth.  Allow the mixture to rest for 30 minutes.  After 30 minutes, bake 4 crepes in a buttered pan.  When finished, keep the crepes warm in the oven.
While the crepe mixture is resting, use the time to prepare the filling.  First, put the powdered sugar into a pot or saucepan and caramelize it until it is light brown.  Pour in the orange juice.  Place the vanilla bean, orange zest, ginger and cinnamon pieces into the pot/saucepan.  Keep the contents simmering for 10 minutes.  After 10 minutes of simmering, remove the pieces of spice and melt in a pat of butter.  When melted, add the quartered strawberries and orange slices and heat until warmed.
Remove the crepes from the oven, and serve them with the filling.  This recipe makes 4 delicious servings!
Additional Notes on this Strawberry Recipe
This orange ragout strawberry crêpes recipe makes a great "anytime" meal component.  It serves as an excellent breakfast addition or can even be an enjoyable dessert. Plus, just like most of the other Strawberry Recipes, this one can be easily modified. For varied tastes, try adding blueberries, blackberries, or other exotic fruit. Experiment and find what works well for you and your unique taste sensibilities! For those conscious about the amount of refined table sugar they consume, feel free to try organic evaporated cane juice crystals, turbinado, sucanat, honey crystals, brown sugar, or even stevia to give unique and varied accents to this quick strawberry recipe.
Be sure to post a comment about your experience below, and others will benefit from your experiences!
Enjoy!