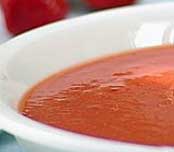 I know, I know, some people think soup is just a concoction made up of blended vegetables and some sort of stock for extra oomph.  Those individuals have obviously lived a very sheltered culinary life.  Of course, your sensibilities in the kitchen extend to all sorts of unique and edifying edibles.  That is why you've decided to create this delicious fruit soup!  This orange zip strawberry soup recipe is sure to please.  It has the perfect combination of texture, sweetness, and zip.
And, of course, don't forget that this is just one of many extraordinary recipes available for your enjoyment on StrawberryPlants.org. There are even other crepes recipes! If you are looking for other culinary uses for your extra strawberries, be sure to see the complete Strawberry Recipes section.
Orange Zip Strawberry Soup Recipe
Armed with this recipe, you can feel confident bringing the food education to less-learned friends.  Have a crew over for dinner, and add this soup to the menu.  Those beef and potatoes types that eschew everything that grows from the ground with roots will be singing a different tune after sampling this delectable dish.  So, get your motor running and start preparing!
Orange Zip Strawberry Soup Ingredients
1 and 1/2 pounds of fresh or frozen strawberries (strawberries can be substituted, conversions here. You can also freeze your own)
1 pint of yogurt
1/2 cup of orange juice
1/2 cup of sugar
1/2 cup of water
1/8 teaspoon of ground cardamom
Orange Zip Strawberry Soup Recipe Directions

If you are using fresh strawberries, wash and hull them.  Put the strawberries in a blender and blend them together until the mixture is smooth.  Slowly add the yogurt and continue to blend.  When the yogurt is evenly blended, pour the strawberry mixture into a large mixing bowl and add the sugar, orange juice, cardamom, and water.  Stir all the ingredients together until they are well blended.  Place the bowl in the refrigerator and allow the mixture to chill for a minimum of 60 minutes.  After the strawberry soup is chilled, serve it in soup bowls.  Garnish with a sprig of mint or a fresh strawberry.
This recipe makes 4 delicious servings!
Additional Notes on this Strawberry Recipe
This orange zip strawberry soup recipe can be eaten with a meal, but also makes a great dessert.  For thicker, more dessert-like consistency, you can substitute the water for regular cream or heavy whipping cream.  Plus, just like most of the other Strawberry Recipes, this one can be easily modified. For varied tastes, try adding blueberries, blackberries, or other exotic fruit. Experiment and find what works well for you and your unique taste sensibilities! For those conscious about the amount of refined table sugar they consume, feel free to try organic evaporated cane juice crystals, turbinado, sucanat, honey crystals, brown sugar, or even stevia to give unique and varied accents to this quick strawberry recipe.
Be sure to post a comment about your experience below, and others will benefit from your experiences!
Enjoy!