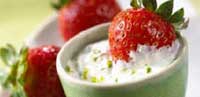 Sometimes, the same old uses for strawberry plants' fruits just won't do.  Variety is the spice of life, right?  This page just may help you find a delightful use of a few strawberries.  It is a sub-directory of our main Strawberry Recipes page that contains many more traditional and easily-categorized recipes.  So, if you don't find what you are looking for here, try the main directory.Here you will find strawberry recipes that are unique, exotic, and fun.  Additionally, practical information that will help you work with strawberries in the kitchen as you whip up strawberry dishes is included.  Get creative and practical at the same time with these other strawberry recipes.
Other Strawberry Recipes
To find a specific strawberry recipe or helpful strawberry utilization tip, simply click the appropriate link under the category heading.
Unique Strawberry Recipes
Fresh Marinated Strawberries
A delightful fresh marinated strawberries recipe.  Use your just-picked or just-purchased berries to make this strawberry recipe a big hit with all comers.
Strawberries and Cottage Cheese
This strawberries and cottage cheese recipe is sure to please.  Virtually any strawberry cottage cheese recipe will be good, but this one is simply cake-taking wonderful.
Stuffed Strawberry Pumpkin
Become a hero: make this stuffed strawberry pumpkin recipe for your family. What is a strawberry stuffed pumpkin recipe? Quite frankly, it is the best thing to come around since sliced bread.
Strawberry Cinnamon Cereal
This homemade cereal recipe is sure to please. As a part of a balance diet, this strawberry cinnamon cereal recipe will both take and give: it will take away your hunger & give you a smile!
Strawberry Pizza
Looking for an easy strawberry pizza recipe? Look no further! This simple strawberry pizza recipe will bring gustatory delight like you've never experienced before!
Other Strawberry Recipes
Homemade Strawberry Syrup
Need a strawberry syrup that doesn't come from a bottle? This homemade strawberry syrup recipe will take you back to your childhood, just without all the unnecessary preservatives and chemicals.
Freezing Strawberries
The definitive and comprehensive guide to freezing strawberries.  All major packs and methods are covered here with instructions.  For a shorter and introductory guide, click the "How to Freeze Strawberries" link below.
How to Freeze Strawberries
Want to know how to freeze strawberries? This guide will teach you how to freeze strawberries so that you can begin freezing strawberries today for use tomorrow!
Kitchen Tips and Other Helpful Strawberry Hints
How to Hull Strawberries
How to hull strawberries, let me count the ways. You can use your teeth, fingers, strawberry huller, knife, or try this great tip! Get strawberry hulling, hull a strawberry today!
A Strawberry Plants .org Freezer Jam Tip!
Use this helpful strawberry freezer jam tip to keep you and your family safe.  This chart lists boiling times at different altitudes for strawberry freezer jam.  Enjoy responsibly!
A Strawberry Plants .org Strawberry Jam Tip!
Use this strawberry jam tip with most any strawberry jam recipe for an increased shelf life and better safety. But, be careful! It is a bit dangerous…
Strawberry Measures, Conversions, Substitutions, & Equivalents
Use this chart to handle all your required culinary strawberry calculations. Strawberry conversions, strawberry substitutions, and strawberry equivalents are easy.
How Many Strawberries Needed to Make Strawberry Pie?
Do you need to know how many strawberries needed to make strawberry pie? Whether you have picked too many strawberries or just want dessert, the answer is here!
Other Strawberry Recipes: Conclusion
When you try one of the recipes, be sure to let us know how it turned out for you, and if you have any tips, do share! You can leave a comment on this other strawberry recipes post or use the About page to email.
Enjoy!