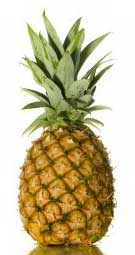 Have you ever played those "which of these does not belong" games?  Most people played them as a kid or in school.  So, which of the fruits in this pineapple coconut strawberry salad recipe does not belong?  Is it the pineapple, the coconut, or the strawberries?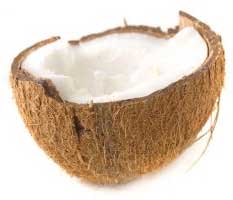 The reason so many people enjoy a pineapple coconut strawberry salad during the summer months is that the wonderful blend of flavors just goes well with heat.  Quite a few folks, however, have a misconception about the strawberry component in such a salad.  Both pineapples and coconuts are tropical fruits, but the strawberry is a fruit grown best in temperate regions.  You won't find pineapples or coconuts growing in Alaska or Canada, but strawberries can flourish in those northern regions.  So, while strawberries aren't tropical fruits, don't give yourself a headache pondering it.
If you are going to get a headache, let it be because you are enjoying this chilled pineapple coconut strawberry salad recipe too quickly!
Strawberry Plants .org has an entire library of wonderful Strawberry Recipes that are sure to please.  So, if you stumbled upon this page while you were searching for something else or different Strawberry Salads, click the above link to find a different strawberry-containing recipe that will be more in line with your expectations.  Even if you don't know quite what you are looking for, chances are that you will find something exciting to try!
On to the pineapple coconut strawberry salad recipe…
Pineapple Coconut Strawberry Salad Recipe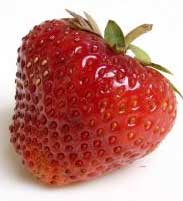 Tropical temperate goodness.  While best eaten chilled during a balmy summer afternoon, there are no mandatory limits on when this treat can be enjoyed.  This pineapple coconut strawberry salad recipe is a perfect example of multiple ingredients, all good by themselves, come together into a symphony of taste that makes one desirous of proclaiming its deliciousness from the rooftops.  If you annoy your neighbors with your singing taste buds, don't say I didn't warn you!
Pineapple Coconut Strawberry Salad: Ingredients
2 cups of fresh strawberries (conversions here)
2 cups of chopped pineapple
1 cup of fresh orange juice
Grated coconut
Sugar
Pineapple Coconut Strawberry Salad Recipe Directions
Wash and remove the green caps from the fresh strawberries.  Thinly slice the strawberries (about 1/4 of an inch thick per slice).  In a glass bowl, sprinkle a fine layer of grated coconut on the bottom of the bowl.  Place the sliced strawberries on the coconut layer.  Sprinkle sugar and coconut over the layer of strawberries.  Then, spread a thin layer of pineapple into the bowl and again sprinkle sugar and coconut.  Repeat the layering process alternating between strawberry and pineapple layers with grated coconut and sugar between each.  Once the layers are complete, pour the orange juice over the top of  the pineapple coconut strawberry salad and place in the refrigerator for an hour (or until cold).  Serve chilled.
Pineapple Coconut Strawberry Salad: Notes
Just like most of the other Strawberry Recipes, this pineapple coconut strawberry salad recipe is easily modified. Frozen strawberries can be used instead of fresh, if necessary.  Also, the strawberries can be cubed or diced or pureed to give a more consistent texture to each layer. For those conscious about the amount of refined table sugar they consume, feel free to try organic evaporated cane juice crystals, turbinado, sucanat, honey crystals, brown sugar, or even stevia to give unique and varied accents to this quick strawberry recipe (if using pure stevia extract, however, be very cautious with the amount used as it is tremendously sweet and can give an aftertaste if too much is used).
Be sure to post a comment about your experience below, and others will benefit from your experiences!
Enjoy!