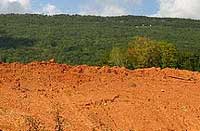 This is a question submitted to Strawberry Plants .org by a reader. The information provided in response to the question may benefit others with the same or similar inquiries. Therefore, it has been added to the archive page of submitted questions. See the Strawberry FAQ for more questions, or use the search box at the top right of this page to search this site for information.
Q: Planting Strawberry Plants in Red Clay?
On November 8, 2010, Brian Roberts asked:
One strawberry grower did not pinch off the flowers of june bearing plants the first year, and even though the yield was lower, he thought he came out ok over the 3 years he had the strawberries. He grew in red Kentucky clay dirt as I have. Would that work out ok
Answer to: Planting Strawberry Plants in Red Clay?
Brian Roberts,
As it turns out, I lived in Kentucky for four years and know just the red clay you reference. Strawberries are versatile plants and I have seen them grow on the side of a red clay bank and out of a waterlogged pressboard book case. If the grower you mention planted his plants in the fall of the previous year, he was wise not to pinch off the flowers as the plants were established and ready to produce. If he planted in the spring of the same year he harvested, he would almost certainly done better if he would have pinched off the first year's flowers. But, if the goal is plant and then forget about them until harvest, the method you mention takes the least attention. For more, see this post on Strawberry Flowers
[ planting strawberry plants in red clay ]
Strawberry Plants .org exists to help spread the passion for growing and eating strawberries. However, manpower is limited. If you have a question related to strawberries, feel free to submit it or post it as a comment. Please be patient, though, as it may take some time before your question is addressed.