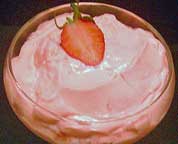 Nothing screams "SUMMERTIME" like strawberries.  That is surely no secret.  With strawberry festivals and shortcakes and 4th of July celebrations, warm temperatures bring forth the bounty of strawberry plants.  Many hours spent hunched over rows upon rows of strawberries at pick-your-own farms result in overflowing baskets of bright, sweet berries.  And, that is where Strawberry Plants .org can help!  We've got many fine recipes that will ensure you'll have tasty ways to use those abundant strawberries each and every year.  Why not start off with this quick strawberry mousse recipe?  Why not indeed!
And, of course, don't forget that this is just one of many extraordinary recipes available for your enjoyment on StrawberryPlants.org. There are many other dessert recipes as well! If you are looking for other culinary uses for your extra strawberries, be sure to see the complete Strawberry Recipes section.
Quick Strawberry Mousse Recipe
Believe it or not, many people have never had a mousse of any kind.  In a world of McDonald's and Burger King, the milkshake and ice cream cone reign supreme when it comes to desserts.  Throw in a cookie or some such ubiquitous sweet, and you've just about exhausted the repertoire of desserts readily available.  Well, whip this up and break the trend.  It is sooo worth it!
Quick Strawberry Mousse Ingredients
1 cup of strawberries (strawberries can be substituted, conversions here. You can also freeze your own)
1 cup of cream cheese
2 eggs
1 lemon
1/2 cup of sugar
Quick Strawberry Mousse Recipe Directions

Wash and hull the strawberries.  Then, juice the lemon and set aside the fresh juice.  Separate the eggs, then soak the gelatin leaves in cold water for at least 5 minutes, then squeeze out all the extra water and place them in a saucepan.  Blend 2/3 of the strawberries until they are smooth and of an even consistency.  Add the cream cheese, lemon juice, and sugar to the blender and then blend for 15 more seconds.  Melt the gelatin leaves over low heat.  When melted, add them to the strawberry mixture and blend for 5 more seconds.  Put the entire mixture into the refrigerator and wait until the mousse starts to firm with the gelatin.  At that point, beat the egg whites and add them to the mixture, gently mixing it in.  Return the mousse to the refrigerator at this point, and wait 3 hours.  After cooled, distribute the mousse into dessert bowls and use whole strawberries to garnish.
This recipe makes 4 delicious servings!
Additional Notes on this Strawberry Recipe
Since this recipe calls for raw eggs, be sure to use only eggs from healthy chickens.  Avoid using eggs from large confinement operations, opting instead for organic eggs from free-ranged chickens.  Pregnant women or those who are immunologically compromised should avoid using raw eggs altogether.  This recipe makes a great summer snack or dessert.  It goes especially well with bright and sunny days and parties by the pool! Plus, just like most of the other Strawberry Recipes, this one can be easily modified. For varied tastes, try adding blueberries, blackberries, or other exotic fruit. Experiment and find what works well for you and your unique taste sensibilities! For those conscious about the amount of refined table sugar they consume, feel free to try organic evaporated cane juice crystals, turbinado, sucanat, honey crystals, brown sugar, or even stevia to give unique and varied accents to this quick strawberry recipe.
Be sure to post a comment about your experience below, and others will benefit from your experiences!
Enjoy!