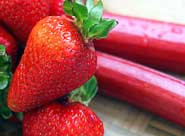 Toast and jam go together like cheese and wine.  Heck, why not make it an event and have toast with jam with wine while you nibble some exquisite cheese?  When most people hear the word "jam," they immediately think of strawberries.  Strawberry jam is the quintessential preserve.  But, the flavorful contents of sweet redness inside jam jars is augmented superbly by joining another garden-grown plant: rhubarb.  Strawberry rhubarb jam has been heralded by the discerning for hundreds of years, and rightly so.  Therefore, says this sage, soothe your palate with this fantastic quick strawberry rhubarb jam recipe.  You'll be glad you did after the first sampling.
And, of course, don't forget that this is just one of many extraordinary recipes available for your enjoyment on StrawberryPlants.org. There are even other jam recipes! If you are looking for other culinary uses for your extra strawberries, be sure to see the complete Strawberry Recipes section.
Quick Strawberry Rhubarb Jam Recipe
Boom goes the dynamite!  Yea, and boom goes your taste buds with the first taste of this supreme taste treat.  Shoot, you won't even have to taste it.  Just get one whiff of this savory sweetness and your salivary glands will surely start their secretions swiftly.  Grab a spoon to eat it straight, or spread it on your favorite eating vector.  Regardless, get started, and turn this jam fantasy into a reality!
Quick Strawberry Rhubarb Jam Ingredients
1 pound of strawberries (strawberries can be substituted, conversions here. You can also freeze your own)
1 pound of rhubarb
2 pounds of sugar
1 package of fruit pectin
Quick Strawberry Rhubarb Jam Recipe Directions

Wash an hull the strawberries, wash the rhubarb.  Remove the leaves from the rhubarb so that you have only the stems.  Cut the washed rhubarb stalks into pieces.  Place the rhubarb and strawberries in a blender and blend until smooth.
Mix the blended fruit with the sugar, and then pour in the pectin.  Bring the mixture to a boil over medium heat.  Allow the mixture to simmer for between 5 and 10 minutes.  Stir the mixture frequently.
To verify that the jam is ready, take one teaspoon of the simmering mixture and put it onto a plate.  If the mixture gelatinizes, it is ready.  Once the jam is finished, skim off the surface foam from the mixture.  Pour the hot jam into clean, sterilized canning jars, and fill them to the top.  Clean up the jars if any jam spilled on the outside.  Tightly screw on the jar lids.  Invert the jars so that they are upside down and allow them to cool for 10 minutes.  Turn the jars right-side-up and allow for 10 more minutes of cooling.  Afterward, store them wherever you wish until you can't wait any longer.  Then enjoy!
Additional Notes on this Strawberry Recipe
This quick strawberry rhubarb jam recipe is truly fantastic.  Like most jams, it is fabulously sweet and can serve as a wake-me-up breakfast addition or can even be an enjoyable dessert. Plus, just like most of the other Strawberry Recipes, this one can be easily modified. For varied tastes, try adding blueberries, blackberries, or other exotic fruit. Experiment and find what works well for you and your unique taste sensibilities! For those conscious about the amount of refined table sugar they consume, feel free to try organic evaporated cane juice crystals, turbinado, sucanat, honey crystals, brown sugar, or even stevia to give unique and varied accents to this quick strawberry recipe.
Be sure to post a comment about your experience below, and others will benefit from your experiences!
Enjoy!