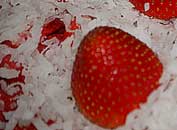 When looking for the perfect recipe, mediocre just won't cut it.  Who wants to labor in the kitchen only to have a frumpy, bland, boring concoction come out for consumption?  Nobody, that's who.  When a culinary artist slips the implements of professionalism onto his or her body, that apron or smock and baking hat become the armor needed to vanquish boring and forgettable dishes to the nether-realm.
This salacious strawberry coconut tart recipe is fit for a king…or a family.  You won't have to joust with a spouse OR a toddler to get them to eat this.  In fact, you may just be heralded as Savior of the Kitchen and knighted Sir Cook by whomever holds royal sway in your humble abode…or castle.
And, of course, don't forget that this is just one of many extraordinary recipes available for your enjoyment on StrawberryPlants.org. There are many other recipes for all occasions and tastes! If you are looking for other culinary uses for your extra strawberries, be sure to see the complete Strawberry Recipes section.
Salacious Strawberry Coconut Tart Recipe
While lofty language and high society may not deign to visit your keep if they aren't milling around to get a sniff of what's on the menu, this recipe is fit for a king.  Make it and see: you'll feel much more important while quaffing these!
Salacious Strawberry Coconut Tart Ingredients
2 cups of strawberries (strawberries can be substituted, conversions here. You can also freeze your own)
6 eggs
1 cup of sugar
3/4 cup of flour
1 teaspoon of baking soda
1/3 cup of coconut flakes or shredded coconut
3 cups of cream
2 packages of vanilla sugar
1 cup of chocolate sauce or chocolate syrup (strawberry syrup can be substituted)
Salacious Strawberry Coconut Tart Recipe Directions

Set the oven to 350 degrees Fahrenheit to preheat.  While the oven is warming, wash and hull the strawberries (use the hulls, if you wish!).  Gently pat the strawberries dry and set them aside.
For the Dough:
Separate the egg whites from the yolks.  Add the yolks, 3/4 cup of sugar, and 3 tablespoons of warm water to a mixing bowl and stir until the mixture is frothy and uniform.
Whisk the egg whites until stiff peaks form.
Mix together the baking soda, flour, and one tablespoon of the coconut.  Stir that mixture into the egg yolk mixture and then gently add the stiff egg whites.
Place the dough onto a baking tray (place parchment paper on the baking tray to avoid excessive sticking).  Bake for 10-12 minutes, or until golden.
For the Cream:
Cube 2/3 of the washed, hulled, and dried strawberries.  Thinly slice the other 1/3 of the strawberries.
Whip the cream, adding the rest of the sugar, the vanilla sugar, and two tablespoons of coconut flakes.  When whipped, gently stir in the strawberry cubes.  Following the instructions on the package of the gelatin sheets, dissolve the 12 sheets and fold them carefully into the cream.
Finishing:
When the dough is finished, spread 2/3 of the chocolate sauce (or syrup) over the tart and sprinkle coconut flakes over it.  Cover with cream.  Place the sliced strawberries on top of the cream.  Drizzle the remaining 1/3 of top of the garnishing sliced strawberries and cream.
Cut evenly and serve to the drooling serfs!
Additional Notes on this Strawberry Recipe
This salacious strawberry coconut tart recipe makes a fantastic breakfast or dessert.  Or, just have a fabulous mid-day snack!  Plus, just like most of the other Strawberry Recipes, this one can be easily modified. For varied tastes, try adding blueberries or other small/cubed fruits. Experiment and find what works well for you and your unique taste sensibilities! For those conscious about the amount of refined table sugar they consume, feel free to try organic evaporated cane juice crystals, turbinado, sucanat, honey crystals, brown sugar, or even stevia to give unique and varied accents to this quick strawberry recipe.
Be sure to post a comment about your experience below, and others will benefit from your experiences!
Enjoy!