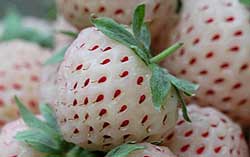 It's STRAWBERRY ORDERING TIME!  People all over are in full strawberry-buying mode.  Strawberries are the first crop to come in after a long, cold winter.  They are planted as soon as the ground can be worked in the spring, and the following year they burst forth and produce a blessed harvest, often while the nights are still chilly.
This season, why not try something new?  Plan on incorporating the Pineberry into your gardening plans.  If you have even a square foot or two of extra space in your garden plot, consider planting a few pineberry plants.  Pineberries are hybrid strawberries just like the normal strawberries you buy at the store or grow from ordered plants.  The difference can be seen in the photo.
They get their name from their unique pineapple/strawberry taste: PINEapple + strawBERRY = PINEBERRY.
The downside is that they are hard to obtain.  You can buy them commercially at the beginning of April in the UK, but they aren't offered commercially in the United States.  BUT, you CAN grow them yourself, if you act soon.  There is only one supplier of pineberries that is known to us at present.  If you are interested in growing this novel strawberry, click the following link to learn more: Pineberry Pineberries.
Say Hello to Mr. Pineberry today!