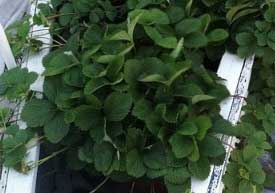 This is a question submitted to Strawberry Plants .org by a reader. The information provided in response to the question may benefit others with the same or similar inquiries. Therefore, it has been added to the archive page of submitted questions. See the Strawberry FAQ for more questions, or use the search box at the top right of this page to search this site for information.
Q: Sonata Variety Strawberry Problems?
On August 11, 2010, Liz Miller asked:
I have an everbearing strawberry plant called Sonata.  I planted the plant in May, in its own box, and gave it the care and attention it needed.  But, all I seem to have gotten from this plant is runners and roots and no strawberries.  Where am I going wrong?  The plant is very healthy and has no diseases.
Answer to: Sonata Variety Strawberry Problems?
Liz,
Thanks for visiting Strawberry Plants .org!  I think the main problem is that the strawberry cultivar 'Sonata' is not actually an everbearer.  It is a midseason June-bearer; consequently, Sonata strawberries typically won't produce if planted too late.  June-bearers planted in May might not fruit at all in year one (and probably shouldn't – see the Growing Strawberries page), but they most certainly will produce a lot of runners.  Next year, however, you can expect a bountiful harvest as long as appropriate care is continued.  For other common problems that can cause strawberry plants to lack strawberries, click here: Strawberry Plants Aren't Producing Strawberries.  And, to learn more about the various types and varieties of strawberries out there, see the Strawberry Varieties reference page.  I hope that helps!
[ sonata variety strawberry problems ]
Strawberry Plants .org exists to help spread the passion for growing and eating strawberries. However, manpower is limited. If you have a question related to strawberries, feel free to submit it or post it as a comment. Please be patient, though, as it may take some time before your question is addressed.