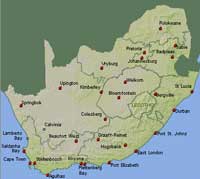 This is a question submitted to Strawberry Plants .org by a reader. The information provided in response to the question may benefit others with the same or similar inquiries. Therefore, it has been added to the archive page of submitted questions. See the Strawberry FAQ for more questions, or use the search box at the top right of this page to search this site for information.
Q: South Africa Strawberry Plants?
On August 1, 2010, Carl Maree asked:
I need strawberry seeds to plant in South Africa. Can you please help?
Answer to: South Africa Strawberry Plants?
Carl,
Unfortunately, governments can be fairly strict when it comes to what enters and exits the country.  I am not familiar with South Africa's import/export policies regarding seeds.  My best suggestion is to contact some of the strawberry seed suppliers on this page and see if any of them are willing to ship to you in South Africa.  There are probably some regional suppliers of strawberry seeds within your country, but I am not aware of them currently.  If you do discover them, let me know, and I will include them on the page linked above for future visitors.  For an idea of what you will need to do to get strawberry plants or seeds shipped to you, view this: Shipping Strawberry Plants.  I hope you are successful in your search for strawberry seeds in South Africa!  And, if you find a good variety of South African strawberry plants, do let us know…
[ south africa strawberry plants ]
Strawberry Plants .org exists to help spread the passion for growing and eating strawberries. However, manpower is limited. If you have a question related to strawberries, feel free to submit it or post it as a comment. Please be patient, though, as it may take some time before your question is addressed.