Increase your sales related to anything "strawberry."
Strawberry Plants .org (https://strawberryplants.org) is a website dedicated to spreading knowledge about strawberry plants in order to foster a deeper appreciation for all things strawberry within the populace.  And, we are succeeding!  Consider our growth:
The year-to-year comparisons from 2010 to the present show…
*  …traffic to Strawberry Plants .org has increased by double digits each year
*  …page views on Strawberry Plants .org have increased by double digits each year
*  …search engines have directed millions of visitors to Strawberry Plants .org
*  …tens of thousands of UNIQUE keyword phrases per month deliver highly targeted traffic to Strawberry Plants .org
*  …Strawberry Plants .org has become recognized by search engines as providing valuable information to searchers as evidenced by its ranking on the first page of Google, Yahoo, and Bing results for keywords such as "strawberry plants," "strawberry plants for sale," "strawberry varieties," and a host of others
So what?  Why should this matter to your business?
In January of 2011, Strawberry Plants .org, for the first time, opened up space for direct advertising/sponsorship.  The website is positioned to receive significant, targeted traffic for a multitude of strawberry-related searches.  If you are a retailer or wholesaler of strawberry products, plants, or other stock similar to strawberries (other fruit plants or nursery stock, garden supplies, seeds, etc.), this is a prime opportunity to put your brand in front of potential customers who are likely already ready to purchase what you are selling.
Internet users looking for strawberry plants and other similar items often begin thinking about their purchases in January (or even earlier).  Interest and searches historically peak in April or May (after steady, rapid increases in February and March) and then slowly decline until January rolls around again.  See the Google Trends report below for a graphical representation of this cycle: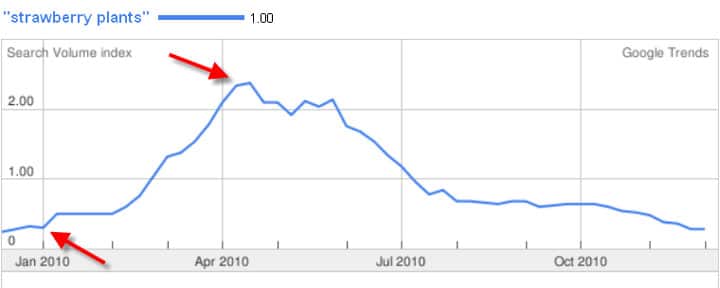 Getting your business in front of people looking for what you have to offer so that sales can be made is the goal of advertising.  Sponsoring an ad space on Strawberry Plants .org can help you do it successfully.
The details…
Individualized advertising solutions and/or sponsorships can be created depending on your needs.  If you would like to discuss customized ad campaigns on Strawberry Plants .org, feel free to use the contact page to start the ball rolling.
As Strawberry Plants .org continues to grow and expand, more targeted traffic will land here.  As that occurs, the advertising space will become more valuable.  The rates discussed below are introductory rates and may increase at some point in the future.  At no time will the rates increase and be applied retroactively, prior to the conclusion of an agreed-upon ad run, or without the consent of a representative of the advertising individual or institution.  Additionally, if advertising space becomes restricted, an auction format may be used for ad space.
Introductory advertising options and rates…
Contact StrawberryPlants.org for details if interested…
Payment…
Notification of the amount due to Strawberry Plants .org will be provided within 7 days from the last day of the month.  The invoice will be sent via email to an email address specified by the advertiser through PayPal.  Payment must be received prior to the first day of the following month.  Screen captures of the statistics used in calculating the amount owed will be furnished on request.  As traffic increases, the value of ad space will increase as more individuals search for and find strawberry-related information on Strawberry Plants .org.  Examine the graph above for an idea of the monthly increase in both exposure and pageviews that should be expected for an advertiser sponsoring ad space year-round.
Payment is to be rendered to Issachar Knowledge, LLC, the owner of Strawberry Plants .org, through PayPal.