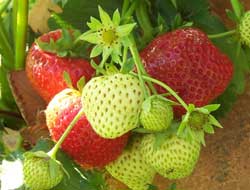 Everyone loves strawberries, and cancer is universally abhorred.  Ever since it was theorized that eating strawberries prevents cancer, more and more research has been undertaken to discover the potential cancer-fighting properties and medicinal compounds contained within the delightful fruits plucked from strawberry plants around the world.  The ongoing research is quite exciting.
As it turns out, strawberries and cancer are being researched together due to the possible health benefits of strawberries.  In fact, early results of experiments using freeze-dried strawberries and strawberry extracts along with cancer cell cultures have been quite promising.  This post is a brief summary of some of the recent study results that have involved strawberries.
Strawberries and Cancer: Breast & Cervical

In 2001 the Journal of Medicinal Foods published a study that showed inhibition of two types of breast cancers and two types of cervical cancers when freeze-dried strawberries were added to the cancers growing in tissue cultures.  Two varieties of strawberries were used, and both varieties showed significant inhibitory properties in the cervical cancer cultures.  Both also showed activity that inhibited the breast cancer cells, but the different varieties showed different inhibition strengths for the breast cancer cultures.
Strawberries and Esophageal Cancer
Another study showed that freeze-dried strawberries also had an inhibitory effect on the development of esophageal cancer that had been chemically-induced, when the strawberries comprised a high enough percent of the total diet (Toxicol Studies, 1999).  Further, the results of a 2001 study showed that feeding strawberries after cancer initiation blocked progression (Carcinogenesis).
Cancer and Strawberries: Conclusion
The research on using strawberry compounds or strawberries as treatment modalities in the battle against cancer is in its infancy.  But, the humble strawberry's most known anti-cancer strawberry compound, ellagic acid, is not a lone gunman.  Strawberries are packed with Vitamin C and other health-giving antioxidants.  And, in another 2001 study published in Carcinogenesis, an extract containing no ellagic acid was also effective in preventing cell transformation in animals.
There is much research still to be done.  With the decades upon decades of selective breeding, many strawberry varieties have emerged as specific traits have been sought and selected.  Because of this, there will likely be much variation between the properties of different cultivars.  So, there is a lot of work still to do.
The links between strawberries and cancer are just now being delved into deeply.  But, with effort, it may not be much longer before the anti-cancer properties are more fully known.  Fortunately for strawberry lovers everywhere, the benefits of eating strawberries can be had today!  So, go buy, pick, grow, or thaw your own strawberries and use them in a tasty strawberry recipe today!
References:
1.  Wedge D, et al.  J Med Foods 4 (1) : 49-51, 2001.
2.  Stoner GD, et al.  Toxicol Studies 52 (suppl) : 95-100, 1999.
3.  Carlton PS, et al.  Carcinogenesis 22 (3) :441-46, 2001.
4.  Xue H, et al.  Carcinogenesis 22 (2) : 351-56, 2001.