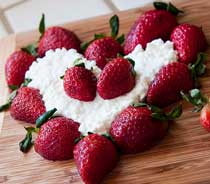 This strawberries and cottage cheese recipe is a delight for the taste buds.  Cottage cheese is a long-standing member of the "goes well with fruit" club.  Just about any fruit can be added to a bowl of cottage cheese for a quick, easy, and tasty breakfast dish, afternoon snack, or after-dinner dessert.
And, if you just happen to be among the few who are not connoisseurs of that fine dairy product, Strawberry Plants .org has an ever-growing library of sensational Strawberry Recipes that are sure to delight.  Feel free to peruse until you find the exact recipe that will help you use your extra strawberries in a satiating way.  Even if you don't know quite what you are looking for, chances are that you will find something exciting to try!
On to the strawberries and cottage cheese recipe…
Strawberries and Cottage Cheese Recipe
Cottage cheese is a form of curd cheese.  It is generally drained but not pressed.  This allows some of the whey to remain with the individual curds.  The resultant cheese has a mild flavor that goes well with naturally-sweet ingredients like fruit.  The substantive qualities of the curds combine wonderfully with the sweet (and occasionally slightly tart) flavors of fruit to make a delicious, yet satisfying, dish.  Strawberries are uniquely suited for use with cottage cheese or other curd cheeses.  Whip up a batch of this strawberries and cottage cheese recipe, and you will understand!
Strawberries and Cottage Cheese: Ingredients
2 cups of fresh strawberries (conversions here)
1 cup of cottage cheese
1/2 of a lemon (lemon juice can be substituted)
1 package of vanilla sugar
1/2 cup of whipped cream
2 tablespoons of sugar
2 tablespoons of grated cocoa
Strawberries and Cottage Cheese Recipe Directions
Put one cup of the strawberries and one half of a cup of the cottage cheese in a blender and blend until smooth.  Add the vanilla sugar, sugar, and lemon juice.  Add sugar to taste if not sweet to your liking.  Pour the mixture into a mixing bowl.  Cube the second cup of strawberries into small cubes and whip the whipping cream.  Then carefully mix the cubed strawberries, whipped cream, and the remaining cottage cheese into the blended mixture.  Divide the strawberries and cottage cheese recipe equally into four bowls.  Sprinkle the cocoa over the top of each and garnish with a whole strawberry in the center of the bowl.  Serve immediately or after chilling for a few hours in the refrigerator.
Strawberries and Cottage Cheese: Notes
Just like most of the other Strawberry Recipes, this strawberry cottage cheese recipe is easily modified.  Frozen strawberries can be used instead of fresh if no fresh strawberries are available.  Additionally, strawberry syrup can be added for an extra strawberry kick. For those conscious about the amount of refined table sugar they consume, feel free to try organic evaporated cane juice crystals, turbinado, sucanat, honey crystals, brown sugar, or even stevia to give unique and varied accents to this quick strawberry recipe (if using pure stevia extract, however, be very cautious with the amount used as it is tremendously sweet and can give an aftertaste if too much is used).
Be sure to post a comment about your experience below, and others will benefit from your experiences!
Enjoy!