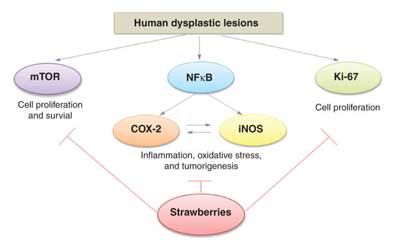 Everyone loves to eat strawberries.  The signature aroma and exquisite taste are known throughout the whole world.  And, while strawberries are universally loved, there exists a fiend that is universally known and despised: cancer.  While I have written in the past about some of the health benefits of strawberries, recent research is showing that strawberries and esophageal cancer may be linked as well.
Primarily, research done on esophageal cancer is revealing that the oral consumption of freeze-dried strawberries in powdered form can prevent precancerous esophageal changes from progressing to full-blown esophageal cancer.  In fact, while the effect in rats was significant, the randomized, blinded, phase II trial performed in China over 6 months was very promising for the future of strawberries and esophageal cancer.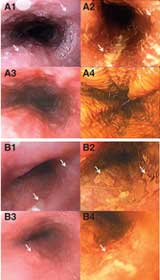 Strawberries and Esophageal Cancer: Study Results
The study  was done by Chen T, Yan F, Qian J, Guo M, Zhang H, Tang X, Chen F, Stoner GD, and Wang X.  It followed 75 patients who had been identified as having precancerous (dysplastic) lesions in a high-risk area for development of esophageal squamous cell carcinoma.  After 6 months of treatment with two different doses of freeze-dried strawberry powder, the smaller dose (30 g/d) showed no clinically significant affect on the premalignant lesions.  However, the higher dose of 60 g/d showed very promising results.  The result: eat strawberries and esophageal cancer may be prevented.  In 80.6 percent of patients taking the higher dose of strawberry powder, the grade of the premalignant, dysplastic areas (the precancerous lesions) actually improved.
This result, as noted by the study's authors, warrants significantly more investigation into strawberries and esophageal cancer to see if the results can be repeated and utilized in cancer therapy.  With absolutely no adverse effects reported during the study, using strawberries to treat this form of cancer could be a great alternative once further research has been completed.
For more details, read the Pubmed abstract about using strawberries and esophageal cancer improvement.