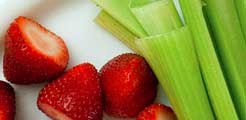 Who likes surprises?!  Well, most people in the Internet Age will look askance at the one who asks such a question.  People are wary these days, and rightly so.  Who hasn't seen the videos of 250 lbs of manly-man squealing like a baby pig when a head or a hand unexpectedly shoots up out of a cleverly disguised prop?  And, most people have seen the big hairy spiders dropped on a line directly beside poor ol' grandma's face as she placidly watches the Golden Girls reruns on the television.  I won't even mention "SMACK CAM!"  We all love those serendipitous arrivals of unexpected gifts and surprise packages in the mail.  But, no one likes being rudely disturbed by a black-robed and hooded friend that jumps out of your dark hallway after sneaking a copy of your house key, just to see if you'd prove to be incontinent or not.  Well, this recipe is a good (and healthy!) surprise.  Just read on to see what makes this strawberry and fruit surprise recipe special!
And, of course, don't forget that this is just one of many extraordinary recipes available for your enjoyment on StrawberryPlants.org. There are even other drink, beverage, and smoothie recipes! If you are looking for other culinary uses for your extra strawberries, be sure to see the complete Strawberry Recipes section.
Strawberry and Fruit Surprise Recipe
Fear not, this is a surprisingly good recipe.  And, no hairy spider legs or hissing cockroaches are called for in order to complete it.  Of course, if you have a particularly excitable friend coming over…
Strawberry and Fruit Surprise Ingredients
2 cups of fresh strawberries (strawberries can be substituted, conversions here. You can also freeze your own)
2 apples
2 stalks of celery
1 pear
1 banana
1 cup of ice
1/4 cup of sugar
* A juicer is needed for best results with this recipe
Strawberry and Fruit Surprise Recipe Directions

First, juice the apples, pear, and celery.  Celery, by the way, is the secret ingredient that makes this recipe a surprise!  It adds a counterbalance to the sweet fruit and really melds the total flavor profile into a unique experience that will cause your eyebrows to rise in surprise! After juicing, add the juice, banana, ice, and strawberries into a blender and blend for a minute or two or until smooth.  If you prefer super sweet beverages, add the sugar as well.
If you don't have access to a juicer, the recipe will works.  Just blend everything together from the get-go.  However, better results are obtained by juicing the specified components.
Serve in glasses immediately.  This recipe makes 4 fantastic servings!
Additional Notes on this Strawberry Recipe
This strawberry and fruit surprise recipe makes a great drink for kids.  It has no preservatives, and the freshness factor far surpasses anything you can buy in the grocery or specialty store.  Plus, it is healthy!  Make it for breakfast, lunch, dinner, or all three.  It also goes great during the hot summer months as a popsicle.  Just get some popsicle molds, fill them up, freeze them, and give them to the kiddos.  Plus, just like most of the other Strawberry Recipes, this one can be easily modified. For varied tastes, try adding blueberries, blackberries, or other exotic fruit. Experiment and find what works well for you and your unique taste sensibilities! For those conscious about the amount of refined table sugar they consume, feel free to try organic evaporated cane juice crystals, turbinado, sucanat, honey crystals, brown sugar, or even stevia to give unique and varied accents to this quick strawberry recipe.
Be sure to post a comment about your experience below, and others will benefit from your experiences!
Enjoy!