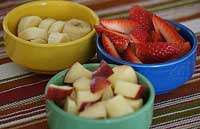 This is a recipe that is ideal for busy moms: virtually no time, and virtually no preparation required.  But, the kids and everyone else will still love it.  Simply put, this strawberry apple banana juice recipe is about as simple a recipe as you can find anywhere.
And, of course, don't forget that this is just one of many extraordinary recipes available for your enjoyment on StrawberryPlants.org.  There are even other (more complex) beverage recipes!  If you are looking for other culinary uses for your extra strawberries, be sure to see the complete Strawberry Recipes section.
Strawberry Apple Banana Juice
Easy and delicious is a great combo!  Just follow these super-simple steps:
Strawberry Apple Banana Juice Ingredients
1 cup of frozen strawberries (strawberries can be substituted, conversions here.  You can also freeze your own)
1 banana
1 cup of apple juice
Easy-Peasy Strawberry Apple Banana Juice: Directions

Dump everything into a blender.  Blend until smooth.  Add sugar or a sweetener of your liking.  Pour into a glass.  Gulp it down.  The end.  See, that was pretty simple, eh?!
Additional Notes on this Strawberry Apple Banana Juice Recipe
For the experienced preparer, this whole process can take less than a minute.  Fast, fresh, fabulous!  Also, just like most of the other Strawberry Recipes, this one can be easily modified.  For varied tastes, try adding blueberries, blackberries, or other fruit.  Experiment and find what works well for you and your unique taste sensibilities! For those conscious about the amount of refined table sugar they consume, feel free to try organic evaporated cane juice crystals, turbinado, sucanat, honey crystals, brown sugar, or even stevia to give unique and varied accents to this quick strawberry recipe.
Be sure to post a comment about your experience below, and others will benefit from your experiences!
Enjoy!