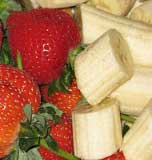 Some things just go well together.  Husbands and wives.  Bread and butter. Sneetches and stars.  And, of course, strawberries and bananas!  In fact, the strawberry banana combo has long been a delectable mixture of bursting flavor due to its unique and fruity aromatic taste.  So, what better way to enjoy summer temperatures than by sipping a cool glass filled with this wonderful strawberry banana drink recipe?!
This strawberry banana drink recipe is but one of many that Strawberry Plants .org offers in its Strawberry Recipes section. If you found this page while you were hunting for something other than a strawberry banana drink recipe, click the above link to find numerous other strawberry-containing recipes. And, even if you stumbled here unintentionally and haven't a clue as to what you want to munch, take a look at the tempting delights there.  You will most certainly find a delightful way to use your strawberries (if you have any left, that is!).
Anyway, on to the strawberry banana drink recipe!
Strawberry Banana Drink Recipe
Strawberry banana drinks are sure to be a hit with the whole family and any friends who happen by whilst thou and thine are dost be consuming such drink.  So, make some extra, double or triple the recipe, and have plenty to share with others!  Your friends will be eternally grateful.
Strawberry Banana Drink Recipe: Ingredients
1/4 cup of frozen strawberries (fresh strawberries can be substituted conversions here, or you can freeze your own)
1/2 of a frozen banana
1/2 of a cored pear
1 and 1/4 (1.25) cups of water
1 tablespoon of powdered skim milk
1/8 teaspoon of cinnamon
Banana Strawberry Drink Recipe Directions
If you are using fresh strawberries, wash the strawberries and remove the stems and green caps.  Next, simply add all the ingredients into your blender or vitamix and then blend them together until well-mixed and smooth.  To make the banana strawberry drink thicker, add ice.  However, if you just want the drink to be colder and not thicker, allow it to sit for a few minutes to allow the added ice to melt prior to consuming.
Strawberry Banana Drink Recipe: Notes
This strawberry banana drink recipe has a great flavor.  Plus, it is super simple to make.  It only takes minutes from start to finish, which makes it an ideal choice for impatient kids.  And, just like most of the other Strawberry Recipes, it can be easily modified.  Many different types of fruit or fruit juices can be added for different flavor accents, or straight strawberry juice can be used for exceptional strawberry flavor.  To both thicken and cool the banana strawberry drink to make it more like a smoothie, try freezing the juices in ice cube trays prior to blending/mixing them.  Experiment and find what works well for you and your unique taste sensibilities!  To make it a dessert, try adding some extra sugar. For those conscious about the amount of refined table sugar they consume, feel free to try organic evaporated cane juice crystals, turbinado, sucanat, honey crystals, brown sugar, or even stevia to give unique and varied accents to this quick strawberry recipe.
Be sure to post a comment about your experience below, and others will benefit from your experiences!
Enjoy!