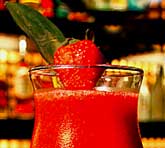 If you are considering quitting your job and turning to piracy on the high seas, you best avoid this strawberry banana peach daiquiri.  Rumor has it that this beverage is what inspired Captain Jack Sparrow to take up a life of adventure.  Rumor also has it that Ragnar Danneskjöld partook of this fruity drink during his own ideologically driven escapades.  So, be cautious.  Should you be of feeble resolve, consuming this drink on a whim might land you in the Caribbean with an eye patch and a bunch of new friends, all called "Matey."
Of course, don't forget that this is just one of many extraordinary recipes available for your enjoyment on StrawberryPlants.org. There are even other inspiring drink recipes! If you are looking for other culinary uses for your extra strawberries, be sure to see the complete Strawberry Recipes section.
Strawberry Banana Peach Daiquiri Recipe
Alcohol alert!  As with any alcoholic beverage, this one carries some risks.  Operating vehicles of any sort, even pirate ships, after consuming can be extremely detrimental to your health and the health of your shipmates.  So, keep it out of the hands of the little pirates-to-be, and exercise caution when consuming.  Always respect the rum!
Strawberry Banana Peach Daiquiri Ingredients
6 fresh or frozen whole strawberries (strawberries can be substituted, conversions here. You can also freeze your own)
1 ripe banana, sliced
6 fresh or frozen peach wedges
2 cups of ice
2 ounces of dark rum
1 ounce of lime juice
2 tablespoons of Cointreau triple sec
Strawberry Banana Peach Daiquiri Recipe Directions

Like most cocktails, this one is pretty simple.  Just pour all the ingredients into a blender; then, blend on high for 30 seconds.  Strain the resultant mixture into your preferred cocktail glass, then garnish it with a whole strawberry (slice halfway through the strawberry, starting at the tip end, so that the whole berry can be placed on the lip of the glass).  Plop a straw in the glass, and serve up the drink.
This recipe makes 2 servings.
Additional Notes on this Strawberry Recipe
This strawberry banana peach daiquiri recipe is fantastic.  And, don't be deceived: though peaches and strawberries are both temperate, there is enough banana to make this drink distinctly tropical!  Plus, just like most of the other Strawberry Recipes, this one can be easily modified. For varied tastes, try adding blueberries, blackberries, or other exotic fruit. Experiment and find what works well for you and your unique taste sensibilities! For those conscious about the amount of refined table sugar they consume, feel free to try organic evaporated cane juice crystals, turbinado, sucanat, honey crystals, brown sugar, or even stevia to give unique and varied accents to this quick strawberry recipe.
Be sure to post a comment about your experience below, and others will benefit from your experiences!
Enjoy!