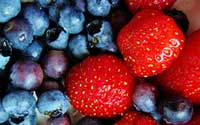 There are two things that everyone needs more of in life: love and strawberries.  Yes, it is a proven fact; no, don't ask me for my studies backing it up.  I mean, really, everyone loves strawberries, right?!  So, there must be a mystical connection between the two.  In the metaphysical realm, strawberries equal love.  And, while I can't claim to be traipsing through the supernatural as we speak, so to speak, my speaking of strawberries and love must affect the metaphysical, for strawberries taste out of this world.
And, as you are tempted to go back and re-read that last paragraph, let me quell your sense of confusion.  For, what was just written truly makes virtually no sense.
So, why introduce a recipe with a bunch of gobbledegook?  Why, to demonstrate to even the slowest wit how ultimately practical and uber-sensical this recipe is, of course!  This strawberry blueberry crisp recipe takes just minutes to prepare.  And, since it will likely disappear in just seconds down the maws of minors and gullets of grownups in giant gulps, there is no need to spend hours in the kitchen for this one.  If you have just a bit over one fifteenth of an hour at your disposal, you can have this one finished.
And, of course, don't forget that this is just one of many extraordinary recipes available for your enjoyment on StrawberryPlants.org. There are even other crepes recipes! If you are looking for other culinary uses for your extra strawberries, be sure to see the complete Strawberry Recipes section.
Strawberry Blueberry Crisp Recipe
Blueberry and strawberry were destined to be together.  That's why they are both native the United States!  Bake these two beauts up, and people will hail you as a masterful culinary creator…even if it just took you five minutes!
Strawberry Blueberry Crisp Ingredients
1 pint of fresh strawberries (strawberries can be substituted, conversions here. You can also freeze your own)
1 pint of fresh blueberries
2 cups of granola
2 tablespoons of coconut oil
1 tablespoon of honey
1 tablespoon of brown sugar
1/2 teaspoon of salt
Strawberry Blueberry Crisp Recipe Directions

Preheat the oven to 375 degrees Fahrenheit.
Place the berries into an 8-inch square glass baking dish.
In a small Pyrex bowl, slightly heat the coconut oil until it is runny (will take very little heat), then add the honey, granola, and salt and stir until evenly mixed.  Sprinkle the mixture over the berries in the baking dish.  Then, sprinkle the brown sugar over the granola mix.  Cover the dish with aluminum foil and bake for 3o minutes.  Then, remove the foil and bake for another 10 minutes, or until the top is golden brown.
Remove the crisp from the oven, and serve it up warm or chill and then serve cold. This recipe makes 4 delicious servings!
Additional Notes on this Strawberry Recipe
This strawberry blueberry crisp recipe is delicious all by itself.  It makes a great Fourth of July celebration component when served with ice cream or whipped cream to extend the red, white, and blue motif as well.  It also can be eaten as a sweet breakfast or a dinner dessert. Plus, just like most of the other Strawberry Recipes, this one can be easily modified. For varied tastes, try adding goji berries, blackberries, or other exotic fruit. Experiment and find what works well for you and your unique taste sensibilities! For those conscious about the amount of refined table sugar they consume, feel free to try organic evaporated cane juice crystals, turbinado, sucanat, honey crystals, brown sugar, or even stevia to give unique and varied accents to this quick strawberry recipe.
Be sure to post a comment about your experience below, and others will benefit from your experiences!
Enjoy!