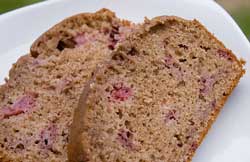 When most people think of strawberry plants and strawberries, they think of eating the tasty red fruits raw or in a dessert dish.  Never does the thought enter in that there might be other culinary uses for strawberries.  Believe it or not, one of the most delicious uses of strawberries is to make strawberry bread.  Typically, those who bake strawberry bread do so intending to enjoy it as a breakfast.  However, this strawberry bread recipe will satisfy first thing in the morning, as a midnight snack, or anytime in between.
Strawberry Bread Recipe: Ingredients
2 cups of strawberries, sliced (conversions here)
3 cups of flour
2 cups of sugar
1 cup of shortening
1 teaspoon of baking soda
1 teaspoon of cinnamon
4 eggs
Strawberry Bread Directions
Combine the flour, salt, cinnamon, and baking soda.  Beat the eggs and then add the eggs, shortening, and strawberries.
Stir all ingredients together until the mixture is evenly moist.
Grease two 9- by 5- by 3-inch bread loaf pans and then spoon the batter evenly into each.
Bake at 350 for 1 hour.  Test with toothpick after one hour.  Continue baking until toothpick comes out clean.
Once baking is completed, allow the strawberry bread to cool in the pans for about 10 minutes.  Then, turn the pans upside down and remove the strawberry bread onto cooling racks for further cooling.  Serve when ready!  (Most people think this strawberry bread recipe tastes better warm!)
Strawberry Bread Recipe: Notes
Be warned: if you try this strawberry bread recipe, it will likely become a family favorite.  Once baked, the strawberry bread can be stored in the refrigerator for a few days, or it can be frozen and placed in a deep freeze.
This strawberry bread recipe can also be modified.  Whole wheat can be purchased or freshly milled, evaporated cane juice or another alternative sweetener can replace regular sugar, and dough enhancers can also be used.  If you find a modification that improves this strawberry bread, be sure to leave a comment and let us know about it.
Enjoy!