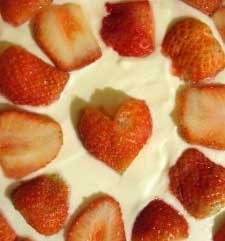 Mmmmmm, cheesecake!  Who doesn't love a fresh and delicious cheese cake?  This strawberry cheesecake recipe will surely leave you satisfied.  Whip it up, and the entire family will have a treat after dinner that they will rave about (and ask you to prepare again and again).
Sweet Tooth, beware!
If, by some strange stretch of the imagination, you came here looking for a different Strawberry Dessert or other culinary creations that call for strawberries, look no further.  Strawberry Plants .org has a multitude of fantastic Strawberry Recipes that will help you use your strawberries in tasty and creative ways.  Feel free to peruse the other recipes for what you desire! You may just find a new favorite…
Without further ado, let us move on to the strawberry cheesecake recipe!
Strawberry Cheesecake Recipe
This is a great recipe to make on the first few hot days of summer.  The strawberry harvest should be plentiful, and evenings should still be cool enough to enjoy being outside.  So, eat dinner and head out to the porch or step to watch the sun set while enjoying some fresh strawberry cheesecake!
Strawberry Cheesecake Recipe: Ingredients
3 pints of fresh strawberries (conversions here)
2 cups of graham crackers
6 tablespoons of butter
2 pounds of cream cheese
1 cup of sugar
1/4 cup of currant jelly
3 eggs
2 tablespoons of water
1 tablespoon of grated lemon zest
1 tablespoon of vanilla
Strawberry Cheesecake Directions
Prepare the strawberry cheesecake crust:
Preheat the oven to 325 degrees Fahrenheit.  Crush the graham crackers into small crumbs, melt the butter, and then combine the butter and graham crackers.  Press the mixture into greased or non-stick 10-inch springform pan.  Bake for 5 minutes and then remove the crust.
Prepare the strawberry cheesecake cake:
Use a mixer to blend the cream cheese on low until it is smooth.  Continue blending on low and add in the eggs, sugar, lemon zest, and vanilla.  Continue to blend until the entire mixture is evenly fluffy.  Pour the resultant mixture into the springform pan on top of the crust and bake for an hour.  Be sure the center is set prior to removing.  Then, remove the pan and allow it to cool.  After cooling, place the pan in the refrigerator and allow it to chill for four hours.
Prepare the strawberry cheesecake glaze:
Combine into a small pot: 2 tablespoons of sugar, currant jelly, water and bring it to a boil.  Simmer for 3 minutes and then allow to cool.
Finish the strawberry cheesecake recipe:
Wash and dry the strawberries. Then remove the green hulls from the fresh strawberries and then cut them in half from tip to top.  Release the springform pan and place the strawberry cheesecake on a dish.  Place one of the halved strawberries in the center of the cake, cut side down.  Place the rest of the strawberries in like fashion on the top of the cheesecake in concentric circles.  Evenly cover the strawberries with a thin layer of glaze.  Place the finished strawberry cheesecake recipe in the refrigerator and cool for an additional three hours prior to serving.
The finished strawberry cheesecake is now ready to share with family and friends!
Strawberry Cheesecake Recipe: Notes
Just like most of the other Strawberry Recipes, this strawberry cheesecake recipe is easily modified.  If you are a true devotee of strawberry tastes, you can substitute regular cream cheese for strawberry-flavored cream cheese for an over-the-top strawberry experience.  For those conscious about the amount of refined table sugar they consume, feel free to try organic evaporated cane juice crystals, turbinado, sucanat, honey crystals, brown sugar, or even stevia to give unique and varied accents to this quick strawberry recipe.
Be sure to post a comment about your experience below, and others will benefit from your experiences!
Enjoy!