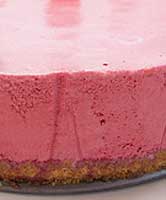 If you are a fan of chiffons, this strawberry chiffon pie recipe will be a unique experience for you.  Delightful and fluffy, this strawberry chiffon pie recipe will surely leave you satisfied.  So, gather the ingredients, snag a few moments, and make this pie treat the entire family will enjoy.
If you found this page while you were searching for a different Strawberry Dessert or other culinary creations that call for strawberries, you need to look no further. Strawberry Plants .org has a multitude of fantastic Strawberry Recipes.  The collections of recipes will help you use your strawberries in tasty and creative ways. Feel free to peruse the other recipes for what you desire! You may just find a new favorite…
Now, on to the strawberry chiffon pie recipe!
Strawberry Chiffon Pie Recipe
This is a unique strawberry chiffon pie recipe.  The combination of strawberry flavors combine to cause significant reactions amidst your taste buds.  Some may even explode, so beware!  With that fair warning, here is the recipe:
Strawberry Chiffon Pie Recipe: Ingredients
8 fresh strawberries (conversions here)
1 packet of gelatine
1 cup of water
2 to 2.1 ounces of strawberry Kool-aid mix
3 tablespoons of sugar
1 pint of heavy whipping cream
2 tablespoons of instant dry milk
2 cups of graham crackers
6 tablespoons of butter
Strawberry Chiffon Pie Directions
Prepare the strawberry chiffon pie crust:
Preheat the oven to 325 degrees Fahrenheit.  Crush the graham crackers into small crumbs, melt the butter, and then combine the butter and graham crackers.  Press the mixture into greased or non-stick pie pan.  Bake for 5 minutes and then remove the crust from the oven.
Prepare the strawberry chiffon pie:
Whip the whipped cream (additional sugar or sweetener can be added to taste) and place it in the refrigerator.  Combine the gelatine and water, allowing the mix to stand for five minutes.  After five minutes, heat the gelatine/water mix until it is melted.  Then add the Kool-aid mix and sugar.  Mix the combination very well and place it in the refrigerator until it is slightly thickened.  Add the instant dry milk to the thickened gelatine and whip on high speed until the mixture is stiff and creamy.  After removing the beaters, fold in the whipped cream.  Spread the filling evenly into the pie pan onto the pie crust.
Place the pie pan in the refrigerator and allow it to cool until firm.  Then, slice the strawberry chiffon pie into eight equal pieces.  Rinse and dry the strawberries, hull them, and slice them in half.  Place one strawberry (cut side down) on each slice, then serve!
Strawberry Chiffon Pie Recipe: Notes
Just like most of the other Strawberry Recipes, this strawberry chiffon recipe is easily modified.  So, feel free to experiment! For those conscious about the amount of refined table sugar they consume, feel free to try organic evaporated cane juice crystals, turbinado, sucanat, honey crystals, brown sugar, or even stevia to give unique and varied accents to this quick strawberry recipe.
Be sure to post a comment about your experience below, and others will benefit from your experiences!
Enjoy!