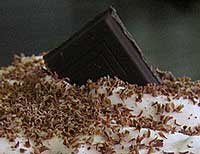 There are a bazillion recipes out there that call for using strawberries (in some form or fashion) with chocolate.  And that is just as it should be.  Whether it is chocolate covered strawberries or a two-flavored frozen yogurt cone with chocolate and strawberry sides intertwined all the way up the swirl, these two tastes are meant to go together.  But, there is a difference between throwing any chocolate together with any strawberry and this recipe.
This recipe is a masterpiece.
Oh, sure, I can see the eyes rolling now.  But you don't have to take my word for it.  Make it and see.  The delicate chocolate overtones with the yogurt and sweet strawberries prove it to be wonderful to any tongue that tastes it.  So, get ready to make this masterpiece and become the Picasso of the Kitchen.
And, of course, don't forget that this is just one of many extraordinary recipes available for your enjoyment on StrawberryPlants.org. There are many other perfect recipes! If you are looking for other culinary uses for your extra strawberries, be sure to see the complete Strawberry Recipes section.
Strawberry Chocolate Yogurt Masterpiece Recipe
Get your artistic kitchen utensils ready and get to work preparing this work of art.  Your taste buds will rejoice, as will all your companions!
Strawberry Chocolate Yogurt Masterpiece Ingredients
1 pint of fresh strawberries (strawberries can be substituted, conversions here. You can also freeze your own)
1/3 cup of sugar
3 additional tablespoons of sugar
3 egg yolks
1 teaspoon of vanilla extract
1 tablespoon of brandy
a pinch of nutmeg
2 cups of plain yogurt
2 tablespoons of sliced almonds
chocolate shavings
Strawberry Chocolate Yogurt Masterpiece Recipe Directions

Wash and hull the strawberries.  Cut them into halves.  Combine the hulled strawberries into a bowl with 3 tablespoons of sugar, cover, and allow to stand for at least 15 minutes.
In a separate mixing bowl, prepare the topping by beating the egg yolks, 1/3 cup of sugar, vanilla, nutmeg, and brandy together until the mixture is uniform and smooth.  Fold the yogurt into the mixture.
Spoon the strawberries equally into four bowls or sorbet dishes.  Cover the strawberries with the yogurt topping, then garnish with the almonds and as much shaved chocolate as you wish.
Serve and enjoy!
Additional Notes on this Strawberry Recipe
This strawberry chocolate yogurt masterpiece recipe makes a great "shocking" dessert. It's unique flavor profile manages to mix the mundane or familiar with exotic overtones to create a taste that will make people stop and take note. Plus, just like most of the other Strawberry Recipes, this one can be easily modified. For varied tastes, try adding blueberries or fruit. Experiment and find what works well for you and your unique taste sensibilities! For those conscious about the amount of refined table sugar they consume, feel free to try organic evaporated cane juice crystals, turbinado, sucanat, honey crystals, brown sugar, or even stevia to give unique and varied accents to this quick strawberry recipe.
Be sure to post a comment about your experience below, and others will benefit from your experiences!
Enjoy!