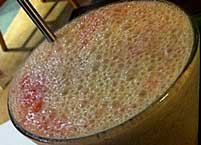 During the spring and summer months, strawberries are everywhere.  If you spend any time in the grocery store or out and about, you'll likely see cartons upon cartons of fresh strawberries just waiting to be snarfed.  Farmers markets are abounding with the sweet red treats, and pick-your-own operations are getting cranked into high gear as pickers-for-a-day come from miles around to claim Nature's goodness.  You might even turn a corner in your downtown area to find a Strawberry Festival in full effect!
And, if you grow your own strawberry patch, you know just how productive the little strawberry plants can be.  If the rabbits and squirrels and birds don't invade, you will have an abundance of berries to consume.  Since strawberries have a short shelf life, it is important to use what you grow or take home from the store.  Nothing is more frustrating than spending time or money obtaining fresh produce only to open the refrigerator door and encounter a thriving mold population ruining your haul.  So, it is good to have quick and easy strawberry recipes on hand to prevent strawberry loss!  This strawberry choconana smoothie recipe is perfect for turning your strawberries into a family favorite.
And, of course, don't forget that this is just one of many extraordinary recipes available for your enjoyment on StrawberryPlants.org. There are even other smoothie recipes! If you are looking for other culinary uses for your extra strawberries, be sure to see the complete Strawberry Recipes section.
Strawberry Choconana Smoothie Recipe
Blessings upon you for deciding to save time and effort and use your strawberries in a way that is sure to please!  With this recipe, you are sure to save time and energy as well.  It truly doesn't get any easier than this…
Strawberry Choconana Smoothie Ingredients
6-8 large strawberries (strawberries can be substituted, conversions here. You can also freeze your own)
1 banana
2 tablespoons of chocolate syrup
1/2 cup of plain yogurt
1/2 cup of milk
1 tablespoon of sugar
ice
Strawberry Choconana Smoothie Recipe Directions

First, wash and hull the strawberries (if they are fresh).  Then, cut the banana into chunks.  Put the milk, yogurt, chocolate syrup, banana chunks, sugar, and strawberries into a blender and blend on high until it is smooth.
Pour into a glass and enjoy it right away!
Additional Notes on this Strawberry Recipe
This strawberry choconana smoothie can be made thicker or thinner as desired.  To make it thicker, use both frozen strawberries and a frozen banana (be sure to wash and remove the stems of the strawberries first if you freeze your own).  Using frozen fruit makes the smoothie colder and thicker.  And, using frozen fruit also allows you to skip using ice if you prefer, so the final result is thicker still.  Just be sure to have a spoon on hand in case you can't suck it through a straw!  Plus, just like most of the other Strawberry Recipes, this one can be easily modified. For varied tastes, try adding blueberries, blackberries, or other exotic fruit. Experiment and find what works well for you and your unique taste sensibilities! For those conscious about the amount of refined table sugar they consume, feel free to try organic evaporated cane juice crystals, turbinado, sucanat, honey crystals, brown sugar, or even stevia to give unique and varied accents to this quick strawberry recipe.
Be sure to post a comment about your experience below, and others will benefit from your experiences!
Enjoy!