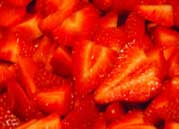 When I was a kid, my weekend diet regimen was appalling.  I'd eat Choco-puffs for breakfast, and I'd be hungry in an hour.  So, handfuls of Kix tided me over until I sat down for a nutritious lunch: Quaker Instant Oatmeal, strawberry-flavored, of course.  I would eat some candy for dessert, then munch on more carb-heavy cereal-like items for dinner and again when I felt snackish later.  Fortunately, I played outside most of the time, so I burned off those carbohydrates slaying imaginary pirates and rescuing poor souls from invisible dragons.  If your diet choices are as irresponsible as mine were, you may want to skip this cereal.  But, if you are even moderately responsible, you can make this delicious homemade cereal recipe a part of a well-balanced diet without wrecking your metabolism.  It is fantastically yummy, so give it a try!
And, of course, don't forget that this is just one of many extraordinary recipes available for your enjoyment on StrawberryPlants.org.  There are even other crepes recipes! If you are looking for other culinary uses for your extra strawberries, be sure to see the complete Strawberry Recipes section.
Strawberry Cinnamon Cereal Recipe
Before you make this, just consider yourself warned.  This recipe may change the way you think about breakfast forever!  Hearty and nutritious, this recipe will "stick to your ribs" as my mother used to say.
Strawberry Cinnamon Cereal Ingredients
2 cups of strawberries (strawberries can be substituted, conversions here. You can also freeze your own)
1 stick of cinnamon
2 cups of apple juice
1/2 cup of wheat (pre-cooked)
1 cup of yogurt
1 fresh orange
4 tablespoons of honey
1 tablespoon of sugar
Strawberry Cinnamon Cereal Recipe Directions
First, put the apple juice and cinnamon stick in a pot and bring it to a boil.  Add the wheat and cook for 20 minutes while gently stirring to prevent the wheat from being burned.  Next, remove the cinnamon stick and remove from your heat source so that it is able to cool down.  While the pot is cooling, wash the orange well.  Then juice it.  After juicing the orange, zest the peel or cut into very small pieces.
Add the orange juice and peel, honey, and yogurt into the pot and stir it together well.  Finally, wash and hull the strawberries before quartering them and adding them to the mixture.  Sprinkle the sugar onto the top and allow it to settle for one minute before eating.  Eat while it is still warm!
Additional Notes on this Strawberry Recipe
This strawberry cinnamon cereal recipe makes a great breakfast cereal. It is minimally processed, so most of its nutrients remain intact, unlike most boxed and flaked cereals with spray-on synthetic vitamins that your body has difficulty absorbing. Plus, just like most of the other Strawberry Recipes, this one can be easily modified. For varied tastes, try adding blueberries, blackberries, or other exotic fruit. Experiment and find what works well for you and your unique taste sensibilities! For those conscious about the amount of refined table sugar they consume, feel free to try organic evaporated cane juice crystals, turbinado, sucanat, honey crystals, brown sugar, or even stevia to give unique and varied accents to this quick strawberry recipe.
Be sure to post a comment about your experience below, and others will benefit from your experiences! Enjoy!