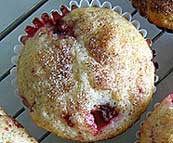 Unlike the mentally challenged individuals who gag and wheeze for minutes after sticking a huge spoonful of ground cinnamon in their mouth and then choking on it (just search for "cinnamon challenge" on your favorite search engine), you actually know how to use cinnamon appropriately to spice your foods to perfection.  After all, that is why you are reading this recipe right now!  Everyone loves cinnamon, whether on toast, in cereal, or in muffins.  Pair cinnamon with strawberries, put the combination in with a few other choice ingredients, bake it up, and you've found a winner.  Just follow this recipe to strawberry cinnamon bliss.  The aroma of these muffins baking will be enough to induce salivation in any living creature with a nose.  Just be sure to put the canines outside prior to baking.  Otherwise, you might slip on the copious puddles of drool that will form underneath the dripping jowls of the aforementioned beasts as they stare longingly at these magnificent strawberry cinnamon muffins baking in the oven.
And, of course, don't forget that this is just one of many extraordinary recipes available for your enjoyment on StrawberryPlants.org. There are even other muffin recipes! If you are looking for other culinary uses for your extra strawberries, be sure to see the complete Strawberry Recipes section.
Strawberry Cinnamon Muffins Recipe
Have you let the dogs outside? Fantastic!  You are now ready to get busy making this culinary masterpiece.  And, of course, any good pet owner will save some for the animals so loved.  So, fend of the challengers and save a muffin for Fido.  Or, at lease let the poor pup lick up the crumbs when he comes back inside from his temporary banishment!
Strawberry Cinnamon Muffin Ingredients
1 and 1/2 cups of strawberries (strawberries can be substituted, conversions here. You can also freeze your own)
2 cups of flour
1/2 stick of butter
2 eggs
2/3 cup of sugar
1/2 cup of milk
1/4 cup of plain yogurt
1 teaspoon of vanilla
1 tablespoon of baking powder
1/4 teaspoon of salt
Strawberry Cinnamon Muffins Recipe Directions

Preheat the oven to 375 degrees Fahrenheit (190 degrees Celsius).
Wash and hull the strawberries, then cube them and set them aside.
Grease a muffin tin or line it with baking cups.
Melt the butter and allow it to cool.
In a large mixing bowl, whisk the eggs together with the sugar until mixture is light.  Then, add milk, yogurt, vanilla, and the melted butter.  Gently whisk until well-mixed.
In another mixing bowl, combine the flour, baking powder, cinnamon, and salt.  Add this to the mixture to the milk/yogurt mixture and stir until the flour just disappears.  Then, add the cubed strawberries and gently stir them into the mixture.
Spoon the batter into either the greased muffin tin or into the baking cups in the muffin tin.  Place the muffin tin into the oven and bake for 25 minutes, or until a toothpick comes out clean.  When finished, invert them onto a cooling rack and allow them to cool sufficiently prior to consuming or serving.
This recipe makes 12 delicious strawberry cinnamon muffins!
Additional Notes on this Strawberry Recipe
This strawberry cinnamon muffins recipe makes a great snack or breakfast, but it isn't limited by any means.  Add some vanilla frosting and some candles to make them birthday muffins, or serve them with a meal as a side bread.  No matter how you serve them, they will be a smashing hit.  Plus, just like most of the other Strawberry Recipes, this one can be easily modified. For varied tastes, try adding blueberries or other cubed fruit. Experiment and find what works well for you and your unique taste sensibilities! For those conscious about the amount of refined table sugar they consume, feel free to try organic evaporated cane juice crystals, turbinado, sucanat, honey crystals, brown sugar, or even stevia to give unique and varied accents to this quick strawberry recipe.
Be sure to post a comment about your experience below, and others will benefit from your experiences!
Enjoy!